Back By Popular Demand – Free Sharpening Day this Saturday, February 20th (CLOSED)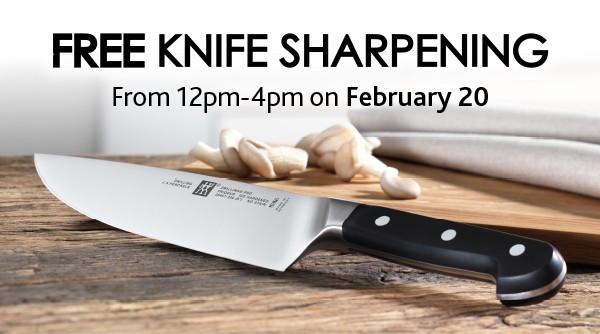 We had so much fun last Saturday seeing you all in person while sharpening your kitchen knives to perfection, we had to do it again. So back by popular demand this Saturday, February 20th, we're having another Free Sharpening Day!
The Details:
This Saturday, February 20th between 12:00pm – 4:00pm, bring one dull kitchen knife* into any House of Knives store and leave with it sharpened free of charge. If that kitchen knife has seen better days and you're not sure if it can be sharpened, bring it anyway and one of our sharpening experts can give you a quote on what it'll take to make it sharp as new.
Due to popularity of the offer, customers will be assisted on a first come, first served basis.
Limitations:
We're excited to see you again, but just as last week, there are a couple limitations you should be aware of before popping in:
The Free Sharpening Offer only includes normal, plain-edged kitchen knives. This means we won't be able to sharpen serrated knives, cleavers, sporting, pocket knives, or scissors during this event. However, we would be happy to provide you with a quote for any of these items, along with any repair costs over and above a normal sharpening.
While most of our locations can sharpen to 15° or 20° angles, our Lougheed Mall location is only able to sharpen knives to a 20° angle which is sufficient for many European or Western style knives. Feel free to contact us if you're not certain what angle you need.
Most importantly make sure your wrap your blade up safely and securely for travel! For more details on the Offer and how to safely travel with your knife, see our post from last week that applies to this event as well.
So Come on Down!
We're looking forward to hosting this event again! So remember to come by one of our stores this Saturday, February 20th between 12:00pm – 4:00pm to get a knife sharpened for free. While you're there, feel free to ask our staff all about proper knife sharpening and maintenance, and take advantage of our great sale on all the things you need to maintain your edge.
*Free Sharpening Offer does not apply to serrated blades, sporting knives, cleavers, scissors, or any knife repairs.
---
---