Carry the Safari In Your Pocket with Arno Bernard Knives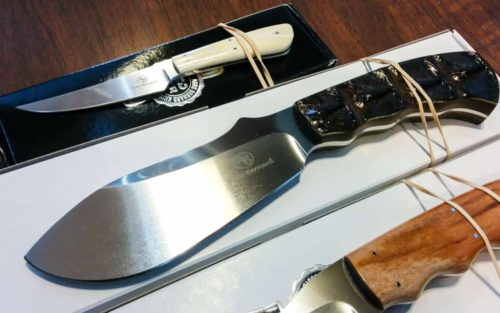 For many of our customers, knives are a very personal thing. Especially when it comes to sporting knives. From the handle material, to the sheath material, from the opening mechanism, to even minute details about the blade itself, it's really a personal thing. House of Knives carries such a wide range of sporting knives to help everyone find their perfect blade. This is also why we've invited Arno Bernard, a top South African knife manufacturer, to partner with House of Knives and give knife enthusiasts even more options for finding that unique blade.
As a family of knife makers, with Arno Bernard Sr. at the helm and his four sons working under his tutelage, every Arno Bernard design is truly a family affair. It all starts with a functional blade made from Austrian born, heat-treated, Bohler N690 stainless steel. Each blade is hollow ground and polished, by hand, and sharpened to an edge that features a hardness of 59-60 on the Rockwell Scale. This gives Arno Bernard knives superior edge retention.
Arno Bernard has created over 24 blade types, all of which are fixed blade designs found in their Giant, Predator, Grazer, Scavenger and Bushbaby lines. But the blade is only part of the story.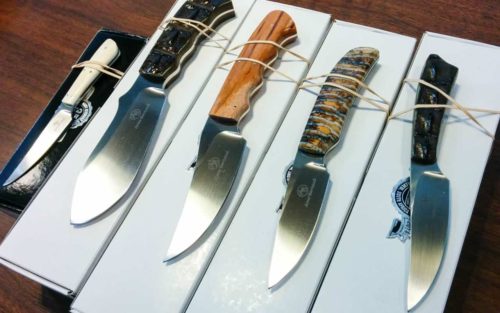 One of the main reasons Arno Bernard knives are being featured at select House of Knives locations is because each of the 24 blades is mated to an extremely rare handle material unique to South Africa. We're talking about knives that use handle materials like giraffe bone, crocodile hide, warthog ivory, mammoth molar, and black ebony. The elephant in the room of course, is where the handle materials are sourced. All handle materials are CITES (the Convention on International Trade in Endangered Species of Wild Fauna and Flora) certified, giving peace of mind to our customers.
What makes the Arno Bernard line even more special, is that each knife is unique in its own way. While best quality materials are chosen for each handle, nature has ensured that your Predator Series "Cheetah", will not be the same as your neighbour's. When you buy an Arno Bernard knife, it is truly, one of a kind.
Accompanying each knife is a sheath made of Cape Buffalo leather, custom fit to the blade. There is also a certificate of authenticity, detailing the model, series, name, handle, and blade material, packaged with an authentic South African coin. The experience is truly unique when handling any of the knives.
Because of this limited engagement of Arno Bernard knives, a unique selection will be available exclusively at the following House of Knives locations near you.
British Columbia
Alberta
Styles and selection will vary by location so make sure you drop in to any of the stores listed above, to have one of our knife experts take you through this truly unique, and one of a kind series.
For a sneak peak of what you'll be seeing, check out the gallery below. If you're wondering why they are being restrained by rubber bands, it's because they are overly eager to make it home to your collection, so hurry in soon.
This slideshow requires JavaScript.
---
---