Five Ways to Make S'Mores Without a Campfire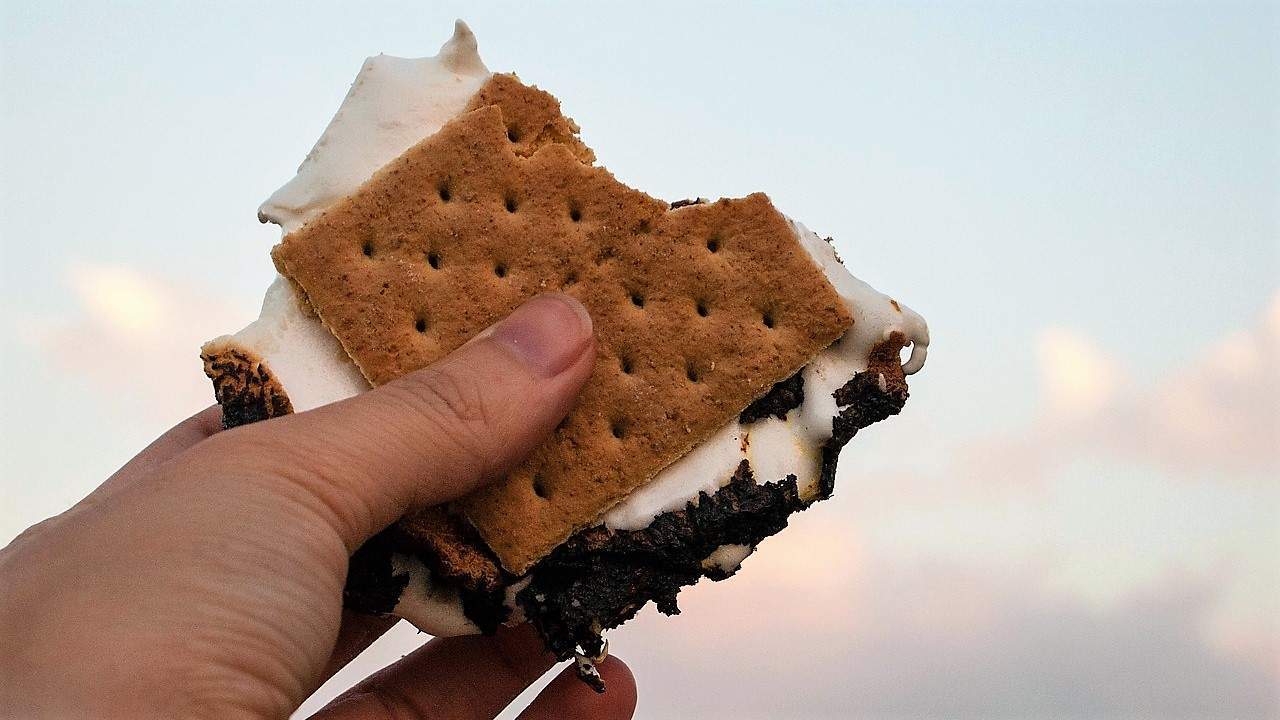 Campfires and camping go together like peanut butter and jelly, lobster and butter, Turner & Hooch. But as the BC Wildfires continue to spread, campfires have been banned to minimize any further risk of wildfire. We know abstaining from this summer tradition will help protect our province and its residents. But today is National S'Mores Day, so the question is, how do you make s'mores without a campfire?
While the smokey aroma of smouldering wood can't be replicated, we can get that taste of chocolate, graham crackers, and melted marshmallows in other ways. Getting s'mores without a campfire is possible, and here are five cool ways to do it!
Turn On The Broiler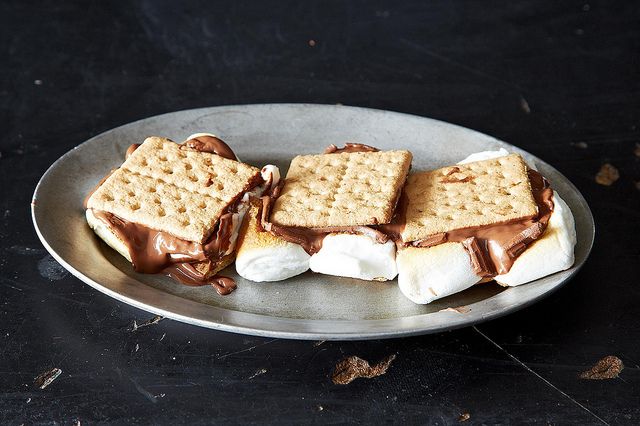 This recipe from Food52 breaks down all those gooey ingredients. You of course, start with the essentials: Hersheys milk chocolate, graham crackers, marshmallows. Pre-heat your broiler, and put two graham cracker squares on a oven safe plate. (For easy clean up, check out the KÜSSI non-stick bakeware liners). Put your Hershey's chocolate on top of one of the graham crackers, and your marshmallows on the other square.
Place the dish directly under the pre-heated broiler. If you are using an oven, flip the door open and carefully watch the chocolate and marshmallows. Remove the dish as soon as your marshmallows get golden brown, then sandwich the two sides together. There you have it: the gooey goodness of smores in your own kitchen. That's the first way to make s'mores without a campfire!
Flower Pot to the Rescue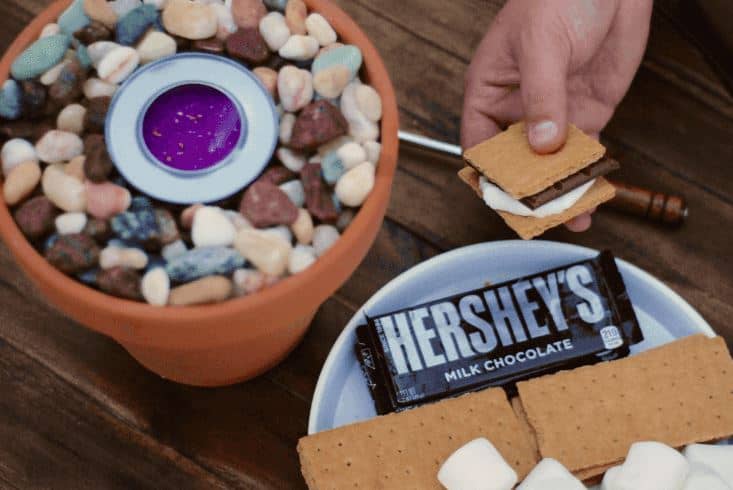 The second way to make s'mores without a campfire gets you back outdoors. OneGoodThing by JilleeBee goes DIY with the help of some items you might have around the house, or can quickly source from your local garden or hardware store.
You'll need a medium sized terracotta or earthenware flower pot, the size of a kid's sand pail. Steer clear of anything material that will melt. Next, you'll want to load the pot up with any stones that are moderately cleaned up. These are just for show, so feel free to use decorative stones. Locate a can of Sterno, which are the little containers of flame often found at buffet tables, and make enough room for it to seat securely within the rocks. Finally, twist off the lid, carefully light it up, and start roasting your marshmallows.
Your own little backyard s'mores-making-aparatus that you can share with the family. Put it on the ground and pretend it's a campfire; just add Hershey's milk chocolate, graham crackers, and marshmallows.
Source: One Good Thing by JilleeBee
Skillet S'mores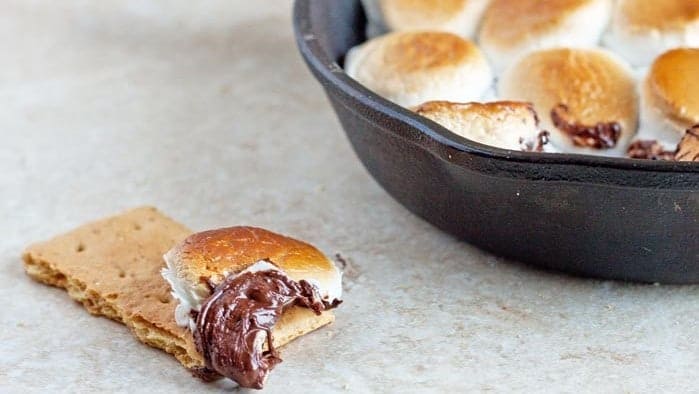 This third recipe can be made indoors in your oven, or over a camping stove. Dessert For Two's idea incorporates the noble skillet into a simple but effective s'more dip recipe. Simply take a 6 inch cast-iron skillet and line the bottom with chocolate chips, or squares of Hershey's milk chocolate. Next, line the top with marshmallows. Preheat the oven to about 450°F and bake the skillet for about 7-9 min, keeping an eye on your marshmallows to avoid charring.
After pulling it out of the oven, just dip your graham crackers and enjoy until you run out of crackers. We won't judge if you use a spoon. A recipe like this leaves room for a lot of variation! Add some peanut butter chips, or sprinkles, or maybe some fresh fruit next time. You can even make them in creme brulee ramekins for individual servings.
Source: Dessert for Two
Dig Out the Fondue Set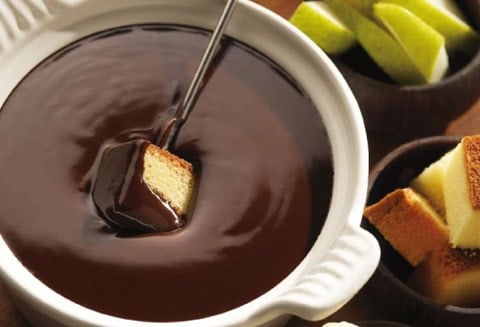 Recipe idea number four is one that elevates s'mores to an upscale experience. Starting out with a recipe from Lindt Chocolates, take 100g of their dark and milk chocolate and chop it up into fine pieces. Next, add heavy cream to a sauce pan and bring it to boil. Once boiling, remove it from the heat immediately. Start adding in the bits of dark chocolate and milk chocolate, stirring until completely melted. For a more traditional taste, you can also use Hershey's dark and milk chocolate as a substitute.
Finally, pour the mixture into a fondue pot and get the flame lit so the mixture remains warm. Put out small marshmallows and graham crackers, pass everyone a fondue fork, and let the upscale s'mores experience begin. This recipe idea can be prepared on your camp stove, or in your backyard over a BBQ, so there's no reason to keep it inside.
Source: Lindt Chocolates
S'mores. The Laziest. Way. Ever.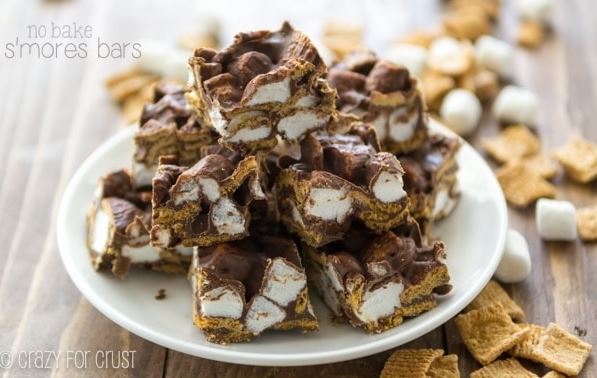 Let's face it. It's hot out there. That's why campfires are banned in the first place. That's also why this next recipe from Crazy for Crust is so genius—it's a completely no-bake recipe. There's only four ingredients: mini marshmallows, chocolate chips, Golden Grahams cereal, and shortening (or vegetable oil).
Prepare an 8 x 8 baking pan and line it with foil. Use some cooking spray on the foil to ensure a quick and easy release. Take 11 – 12 ounces of chocolate chips, and a tablespoon of shortening or vegetable oil, and put it all in a microwave safe bowl. Microwave it in 30 second increments, stirring between each increment, and eventually, everything will be incorporated after about 1 – 2 minutes. Next, take the two cups of marshmallows and two cups of Golden Grahams cereal, and put them into a mixing bowl. Pour the chocolate mixture over top and fold it evenly into the marshmallows and Golden Graham cereal.
Finally, pour the mixture out into the baking pan and press into the pan. The recipe says to cut it into squares right away, but we'd recommend refrigerating it first. Then you can release it from the baking pan and the foil and use a sharp knife to cut it into squares.
This recipe has a lot of room for innovation, so try it out with peanut butter (as a replacement for the shortening), dark or milk chocolate from Hershey's, or even real graham crackers crumbled.
Source: Crazy for Crust
S'mores Without a Campfire? Yes You Can!
So there you have it. Five different ways to get that melted gooeyness from the holy trinity of campfire treats that make up the noble s'more. And none of them need you to risk a campfire in this tinder dry weather. S'mores without a campfire are definitely possible and the results are deliciously good. Good enough to beat a campfire-made s'mores? Try out the ideas above and let us know.
Do you have any campfireless s'more recipe ideas to share? Let us know in the comments below!
---
---