Holiday Turkey Carving Basics with CTV Morning Live
The holiday feast is coming up soon and the pressure is on to make the most amazing turkey ever, with all the fixings. From grandma's pecan pie, to your great aunt's garlic mashed potatoes, there's a whole lot to remember when assembling the meal of all meals. That's why you have a list, you'll check it twice, and you're gonna find out which stuffing is right. What could possibly go wrong?
Well, there are a couple things that often go "fowl." That's why House of Knives President, Mr. Andre Eng, braved the black ice and slush, finished a BC turkey at 4:30 in the morning, and was back at CTV Morning Live Vancouver with Keri Adams to go over some key basics.
Check out the segment in its entirety below:
Take Tom Turkey's Temperature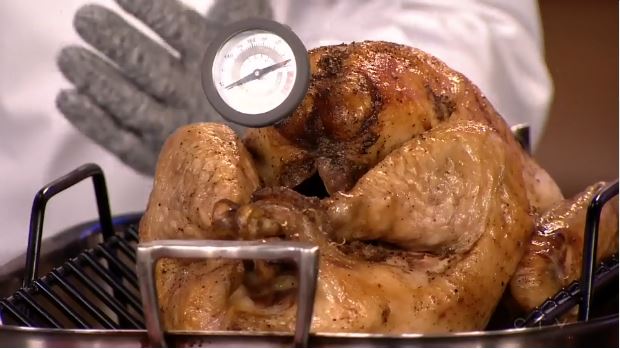 The Küssi Steak & Poultry Thermometer Set – 2pc (1C-KB) is your best friend when it comes to complex meals where the right temperature is crucial for creating memorable turkey comas, and not trips to the commode. The set kills two birds with one stone by working as both a poultry and beef thermometer. Because it comes in a two pack, you can take the temp in two parts of the bird (thigh and cavity), to get things right the first time.
After taking Tom's temperature, you'll want to give him at least a 20 – 30 minute rest once out of the oven, to re-absorb all the lost moisture. This is called "resting," which, if you do it right, is also what you'll have to do after this awesome meal.
Sharpen Before Serving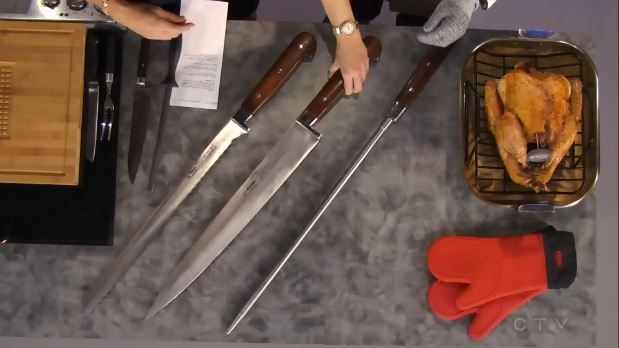 Another way to retain those juices is to use a sharp, straight-edged blade like the ones on many carving knives. Unlike a serrated blade, a straight edge will not saw through the meat, leaving it torn up and dehydrated. Serrations are amazing for cutting crusty bread, don't get us wrong, but the right tool for the right job always applies.
While a good quality carving knife is important, keeping it sharp is the other part of this equation. So before you put on your Cuisipro Cut Resistant Glove and start slicing away, make sure that your knife is sharp by using a honing steel. If it's a little bit too dull, you can also use an Edgelogix Multi-Stage Sharpener (PT071B) to help bring that edge back.
Not sure which to use? You can check out our video right here for more info. And don't forget—there is still time to bring it in for our sharpening service if you want the best possible edge. Remember, a sharp knife is a safe knife, and an emergency trip to the ER is no fun for the family during the holidays.
House of Knives is Your Holiday Cooking Tool Destination
While we can't be there to help serve that holiday meal, our tools are available for you to take home and create the best meal of the year. You can find our locations in BC and Alberta where our staff are trained to guide you through everything that Andre went over with Keri. Plus, take advantage of the opportunity to "try before you buy" so you get the carving knife that speaks to you.
House of Knives Products Featured in this Segment
Shun Hiro 9.5″ Slicing Knife of the Hiro 7pc Block Set (Coming Soon)
Did you have any tips or tricks to pass on? Or any questions? Let us know in the comment section.
---
---