Andre Eng Talks Thanksgiving Turkey on CTV Morning Live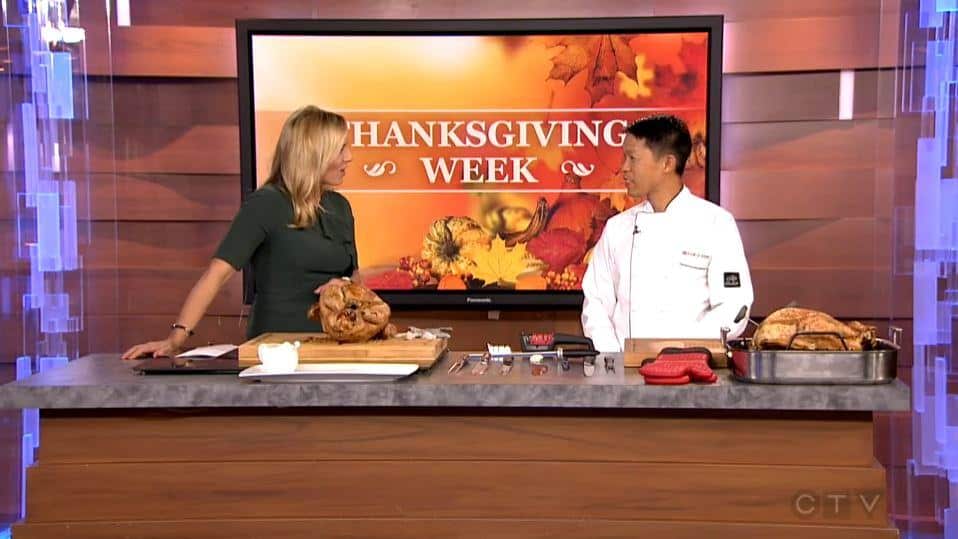 With the upcoming Thanksgiving Day holiday this Monday, House of Knives President, Andre Eng, hit the airwaves on CTV Morning Live Vancouver to give you the low down on the tools you need to have a tasty bird instead of one tough turkey. He joined CTV host, Keri Adams, to go over some of the crucial "edge-u-cation" needed to ensure success. Check out the segment in its entirety below.
Taking Your Turkey's Temperature
One of the most important things that Andre pointed out was of course the temperature of the bird. Since the thigh and breast of the bird cook at different temperatures, it's important to have a thermometer  in both. The Küssi Steak & Poultry Thermometer Set – 2pc (1C-KB) kills two birds with one stone, not only working as a poultry thermometer set, but it's also useful for beef too. Obviously, you want to ensure that your guests are having Turkey comas of the overindulgent variety.
A Sharp Knife for a Juicy Turkey
When it comes to carving your Thanksgiving Turkey, you'll always want a sharp knife that slices through the flesh, versus tearing up the carcass and leaking all those juices out. Not to mention, a sharp knife is a safe knife after all. Starting with a great carving knife like the Shun Classic Carving 9″ Hollow Ground Edge (DM0720) or WUSTHOF Classic Ikon Carving 9″ (4506 / 23) is a great start. The slender and thin edge of a carving knife helps you navigate those bones and joints skillfully no matter what your knife skills level is. Make sure you cut across the grain so that the meat isn't tough and chewy. Don't forget to put on that Cuisipro Cut Resistant Glove if your only experience with the knife each year is during the holidays.
If you've had your knife for a while, a honing steel is a great way to to maintain that edge. But if you've gone a little past where a honing steel will help you out, then a pull through sharpener like the Edgelogix Multi-Stage Sharpener (PT071B) will give you an edge you can carve with right away. At least until you can bring your knife in for our sharpening service.
Where Can I Get Everything I Need for Thanksgiving Day?
We can't help you with getting your Thanksgiving Turkey, or most importantly, remembering to defrost it, but we can direct you to our locations in BC and Alberta. Our House of Knives staff are well trained to help you with everything Andre talked about with Keri. Make sure you have a chance to try before you buy to find the best carving knife just for you and more.
Products Featured in this Segment
---
---