Get Your Turkeys in a Row This Thanksgiving!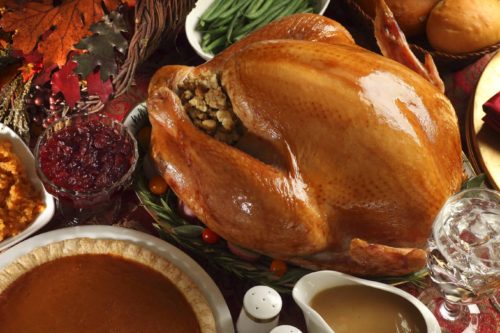 Thanksgiving is coming October 12th, and it's that time of year for family and friends to get together and share good company and good food. The chef in every family knows how much work goes into cooking such an extravagant meal, so thank goodness House of Knives is here to help you prepare for Turkey Day! Featuring great deals on popular brands and items, House of Knives has everything you need to help make your Thanksgiving meal a grand success!
Chef's Choice Sharpeners
Every cook appreciates a sharp knife in the kitchen, but between the hustle of getting dinner ready and the bustle of regular life, not all of us have the time to sharpen our knives by hand. So right now at House of Knives, all Chef's Choice Electric and Manual Sharpeners are 10% off regular price! Get your knives ready to take on Thanksgiving with these high-quality and easy-to-use sharpeners for a fraction of the price.
Or.. Take your knives to House of Knives!
Want your knives to be sharpened with the utmost care and quality only a professional can provide? Take your knives to one of our 16 House of Knives locations to be sharpened by our professionally trained staff!
House of Knives offers sharpening services for all kitchen knives and scissors at $7.00-$10.00 per item, OR, if you bring us 4 or more items, we'll sharpen them for only $6.00 each. We also offer knife repairing services and more, so check out our Sharpening Menu for more info!
RAIN Knives by Ken Onion
Speaking of appreciation for sharp knives, legendary knife designer Ken Onion created the RAIN series to be the most precise kitchen blades possible, and you can enjoy them this Thanksgiving. These knives are American-made and stunning to behold, not to mention their superiority in material, function, and ergonomics has won the RAIN Collection the 2013 Blade Magazine's Kitchen Knife of the Year Award!
We love these knives for their exceptional quality of steel, beautiful raindrop design, and extreme durability. That's why we put the Ken Onion RAIN Series on sale for you this Thanksgiving. Show that turkey who's boss with a RAIN knife by Ken Onion!
If you love these, you'll love…
…the fact that these aren't our only superior quality knives at lower prices. All Wusthof Classic Ikons, Shun Classics, and Zwilling Pros are at discounted prices for BandEdge members. Sign up for our BandEdge Membership Program (it's free) to earn points toward your purchases and get our fantastic BandEdge pricing. We're in the midst of renovating the program, so make sure to add a frequently checked email address to your account, or you may lose all your points! Click here for more information on the upcoming changes.
Baking, Roasting, Mmm!
What's the best way to show your dominance to a turkey? Put it in the oven for 4 hours at 450° and bast it every 45 minutes. Traditional. Delicious. But you'll need a few things to get your bird to that point. Check out these awesome items on sale that will make your time in the kitchen a cinch!
Cuisipro Roaster Rack
Roast your turkey vertically or horizontally without hassle using the Cuisipro Roaster Rack. Easily convertible, made of stainless steel, and able to be used in the oven or the BBQ. We've given this roaster rack a try with our own cooking adventures and we're never going back, so we put it on sale for you this Thanksgiving!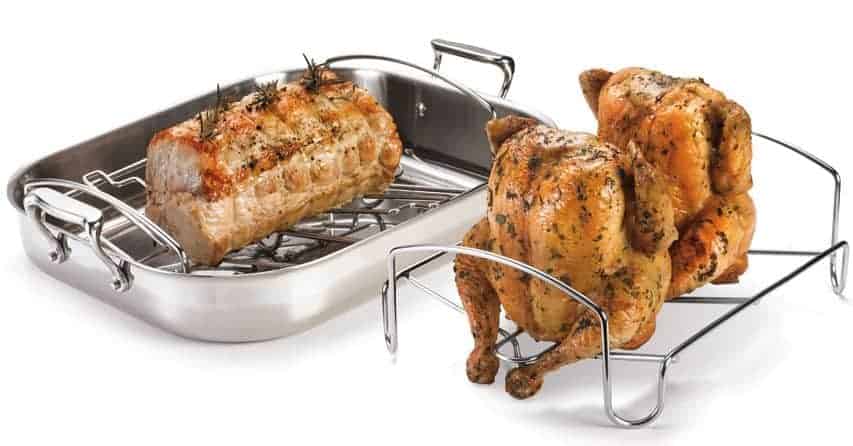 Kussi Silicone Glove
The Kussi Silicone Glove will replace every mismatched pair of oven mitts you own. The inner liner is cotton to keep your hands superbly comfortable, and the outside is silicone, seamlessly surrounding your hand to keep out heat, steam, and moisture. These gloves are waterproof right up to the top of the silicone covering, and so powerful you can stick your gloved hand into boiling water without getting burned (as long as the water is below the silicone, of course)!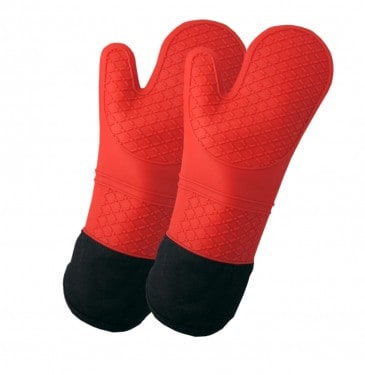 Heat resistant up to 480°F/250°C with extra long cuffs to avoid burns when reaching into the oven. Give them a try this Thanksgiving for only $30.00 for a pair. Each sold separately at $20.00, but buy one now and get the second 50% off.
Basters
Don't get caught without a baster this Thanksgiving. Right now, both Cuisipro and Kussi have these essential items on sale to ensure you get all the flavour in your meal with none of the dryness.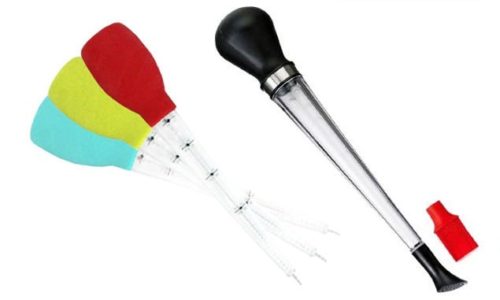 Ready for Dessert?
Thanksgiving wouldn't be a proper holiday without dessert, so we made sure to have you covered there as well. Right now at House of Knives, all Zoku Ice Cream Makers and Popsicle Molds are on sale at 30% off! Entertain your guests with some pumpkin pie accompanied by homemade ice cream, or mix it up with some enticing pudding pops in Zoku's fantastic silicone popsicle molds. Check out Zoku's Recipe Blog for decadent recipes so delicious-looking, we're saving them ahead of time for Christmas' sugarplum dreams.
Come Visit Us!
Come and see us before Thanksgiving to get the best deals and selection at one of our 16 House of Knives locations! Or, hop on our website to view our products and make an order online. Sale ends October 15th, so hurry in for all the best items and prices this Thanksgiving!
---
---