Building the Perfect Vacation Cooking Kit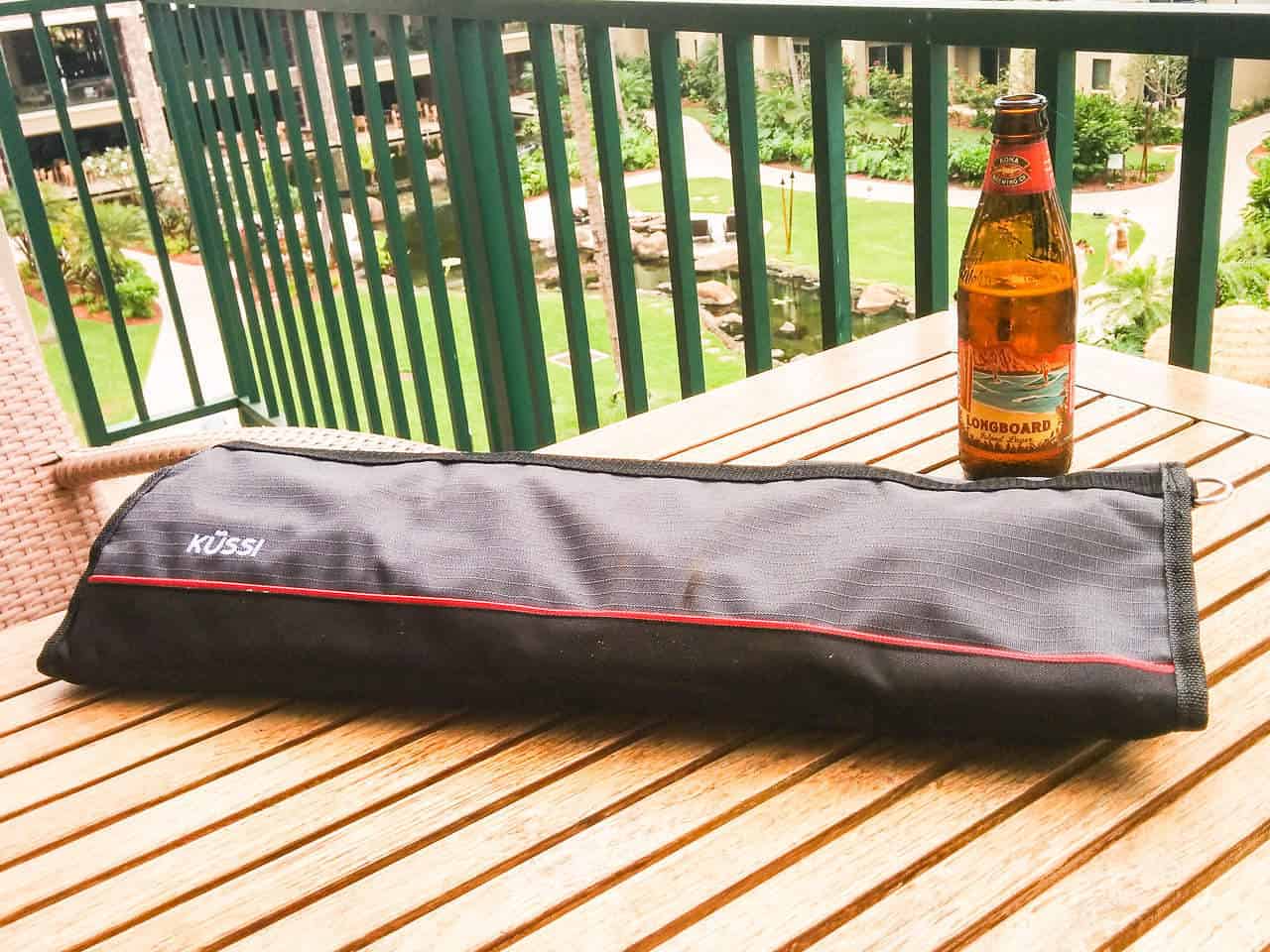 I love cooking and I love trying new food at great local restaurants wherever I end up in the world. There's no better way to experience a new city or culture than through its food. But if you're trying to stay fed and afford your getaway at the same time, staying in a place where you have access to the right tools when you need to cook for yourself can save you a lot of money. And you'll get to visit local markets for ingredients and experience the local culture in a whole new way!
Whenever I've travelled to a resort, AirBnB, or hotel, and when I have access to a kitchen in these places, I'm never truly satisfied with the cutlery situation. Typically, I end up having to use a pocket knife to cut my ingredients because the provided cutlery is just so useless, or something I need, like a grater or thermometer, is not part of the utensils provided. Even worse, I've found many glass cutting boards which dull anything sharp.
For my trip to Maui, Hawaii, I decided to build my own kit that includes everything I needed to make and prepare meals like I do at home. And here's how I did it.
Start With a Knife Roll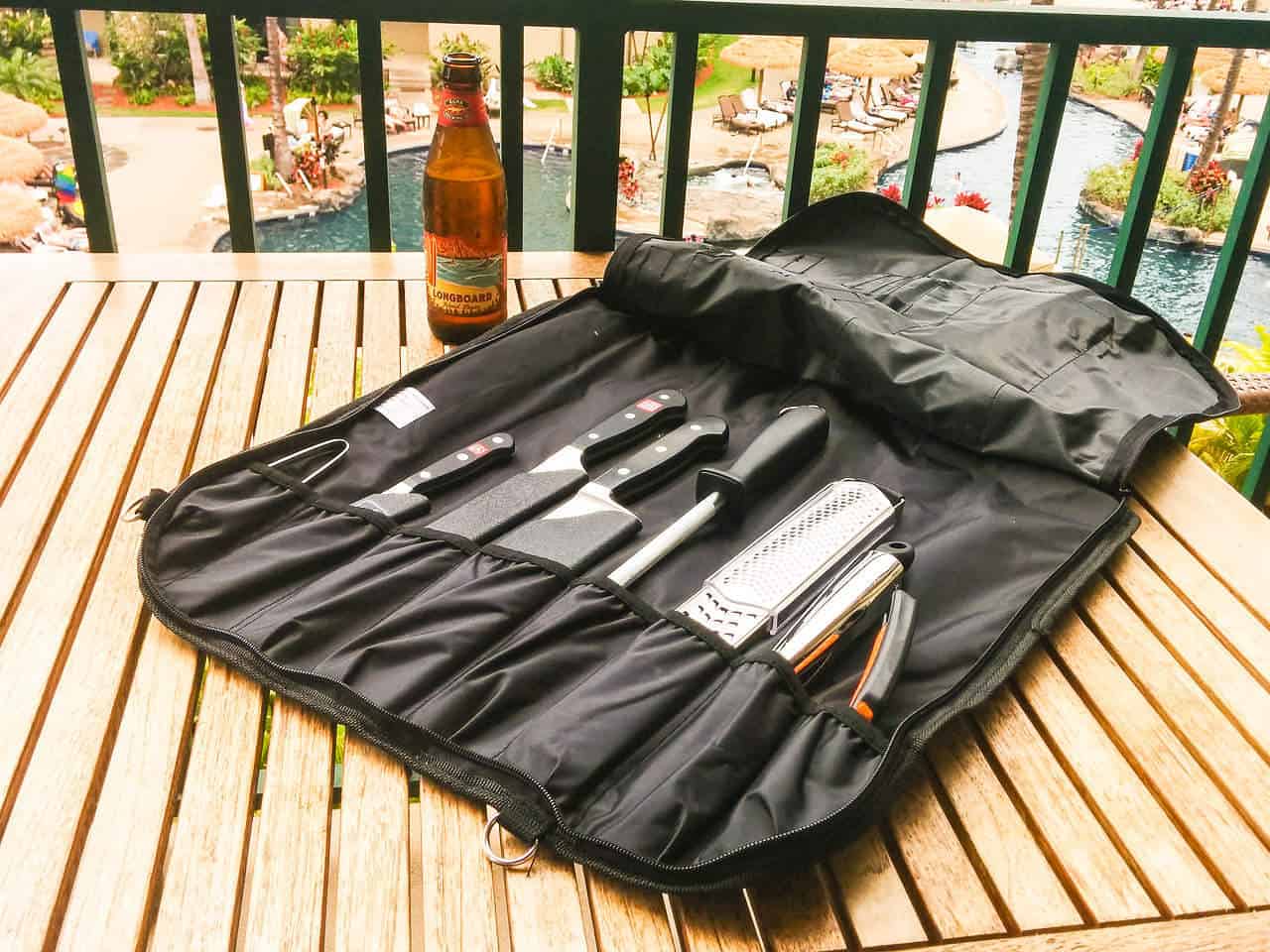 During my last trip to Palm Springs, where I had access to a full kitchen, I truly realized just how horrible the cutlery situation was. And I vowed I would never travel without a good knife or two again. So for my trip to Maui, I wanted to bring a few good knives. But I needed somewhere to put them. That's why I chose to build my kit around the Kussi 8 slot knife roll (also known as a knife bag).
You would typically see something like this carried by culinary students or professional kitchen staff, because they provide excellent protection for their tools in a convenient and safe way to transport them. I brought along my 8″ Zwilling Chef Knife, 9″ Wusthof Classic Double Serrated Bread Knife, and my 3.5″ Wusthof Classic Paring Knife. I also put in anything 'pokey' or potentially 'grating,' such my Kussi fish tweezers, my Cuisipro V-Grater, a set of Cuisipro 9″ tongs, and a Swissmar Swisscurve Peeler. And to keep everything sharp with each dice or slice, I brought along a 9″ Wusthof steel.
In the top flap that covers the knives I also fit in a pair of Cuisipro cut resistant glove, measuring spoons, and a Kuchewerks Instant Read Thermometer, which fits nicely in one of the pen holders.
Don't Forget the Blade Guards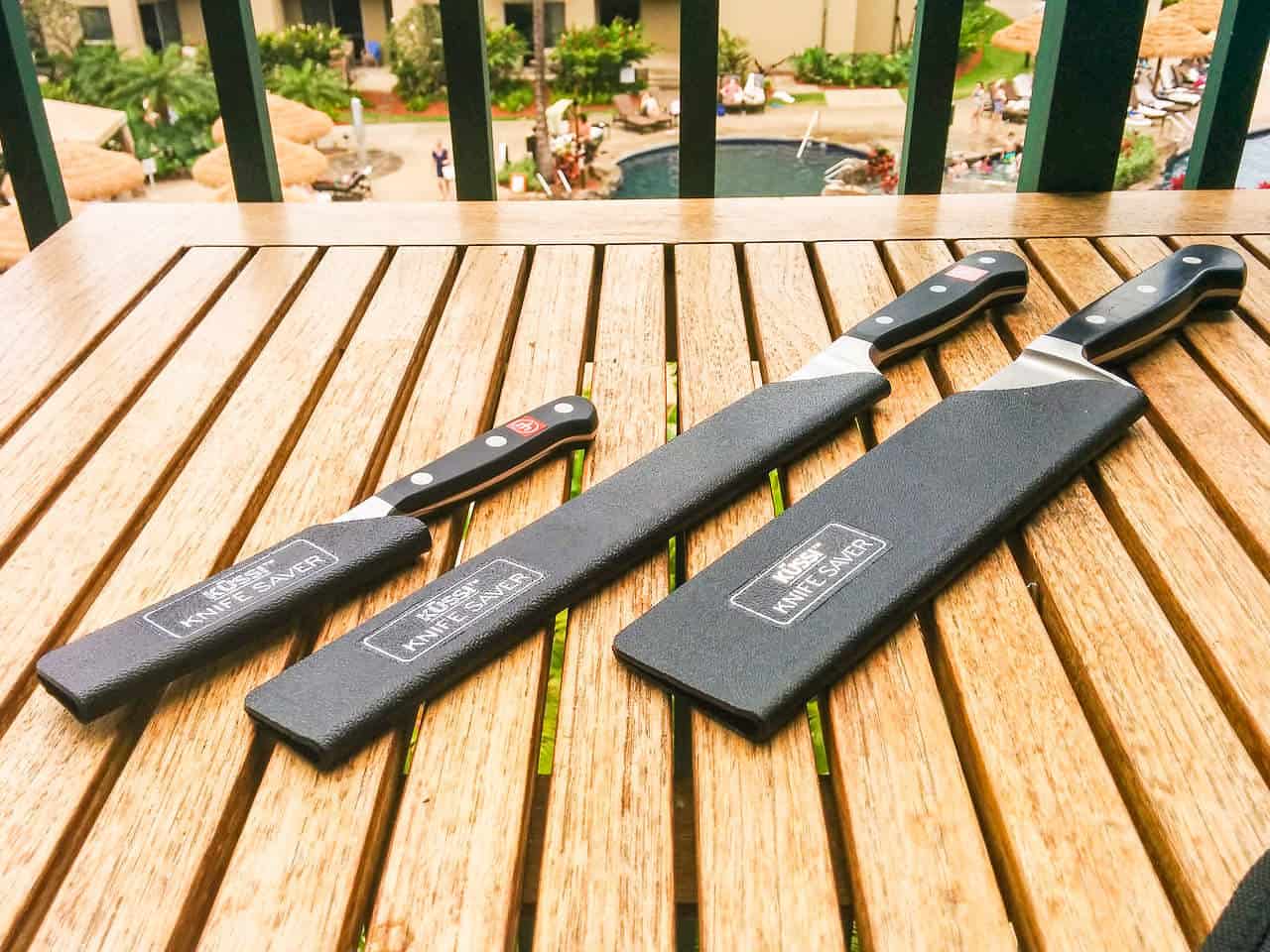 While the knife roll is a great place to roll up your knives, and while it's made of really durable nylon, it's still just nylon. To make sure your knife roll lasts for a long time, and to protect your hands after TSA has had their way with your baggage, you'll want to invest in some Kussi blade guards.
Blade guards come in slip-on and magnetic styles. But for function and best value, the Kussi Blade Guards are your top choice in the slip on variety. They come in standard sizes to fit most popular blade styles, but they can be trimmed to fit your knives exactly if you need. In this case, they fit my 9″ Wusthof Classic Double Serrated Bread Knife and my 8″ Chef knife perfectly. The smaller blade and bolster on my 3.5″ Wusthof Classic paring knife didn't fit right out of the box, so there's a situation where trimming to custom fit would benefit.
The nice thing about the blade guards is that after you get your knives back home you can continue to use them if you store your knives loose in your drawer. We know that not everyone has space for a nice knife block on their kitchen counter, so use them to save space while protecting your most used cooking tool.
Protect Your Blades From Knife-Unfriendly Cutting Boards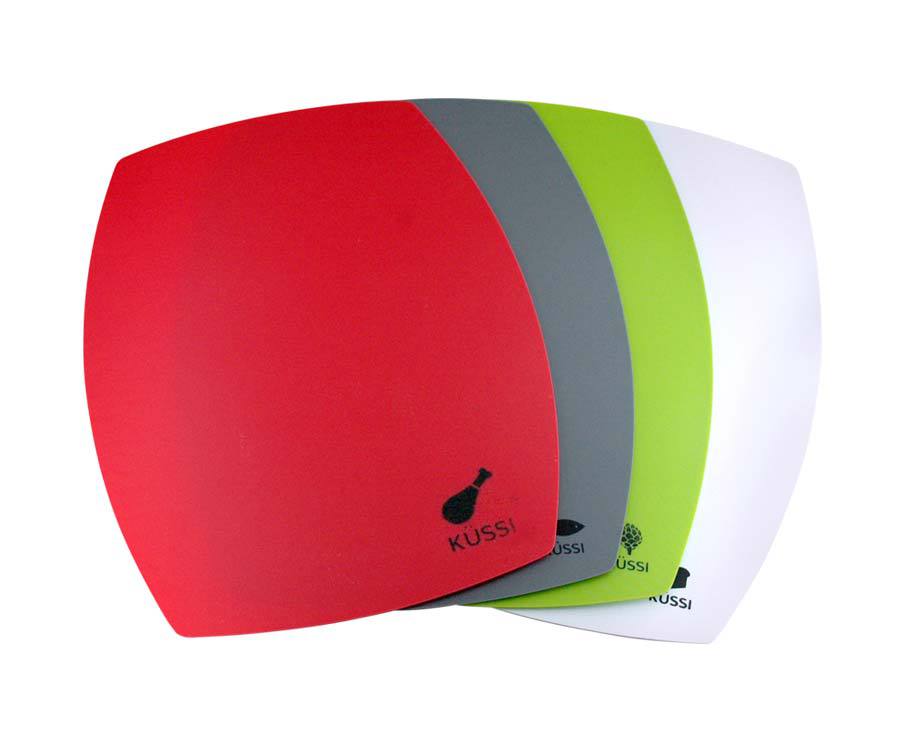 Glass is probably the worst thing for you to be cutting on if you want to keep your knives sharp. Yet so many resort properties and vacation spots still use them. I hope you don't use them at home! So, combined with already very dull resort knives, you can see where I'm going with this. You're not going to bring your end grain butcher block with you, so what's the next best thing? The Kussi Chop & Grips come to the rescue.
The Kussi Chop & Grips come in small and large sizes, and are lightweight which make them perfect for taking along with you. The small size is my favourite because you get four of them and they are labelled to prevent cross-contamination. Just put them on any flat surface and slice and dice away while keeping the edge on your knife in good shape.
Pack a Cut Resistant Glove
In a place like Maui, Hawaii, you'll be able to get yourself fresh fish—in particular, Tuna for making yourself some Poke. Of if you're lucky, you might get yourself a fresh fish that you can fillet. One of the things that will make the task a lot faster and less tedious is using a cut resistant glove.
As demonstrated in one of Andre's visits to Global TV him and Steve Darling made short work of a couple salmon. The additional grip and safety of using a cut resistant glove made the task so much easier. If you're on a vacation, cutting yourself and having to use that travel medical insurance is not something you really want to deal with when you're trying to enjoy yourself.
The one I took on the trip is made by Cuisipro and comes in one size to fit most hand sizes.
Bring a Good Grater that's Portable
There are so many situations where a good grater comes in handy, but it's not something you may find once you land in your vacation spot. So why not simply take one with you?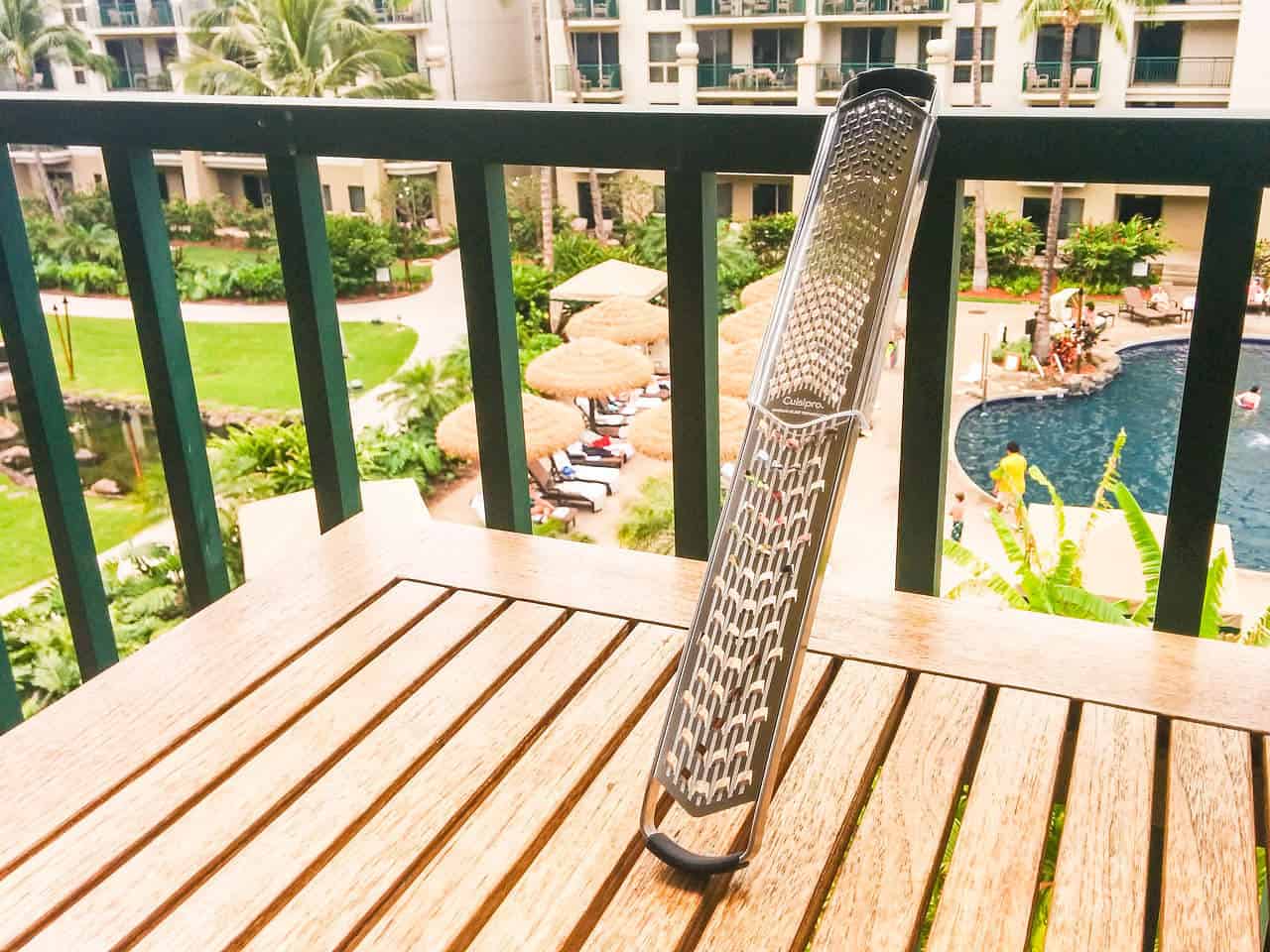 The Cuisipro V-Grater Dual is designed with two grating surfaces: coarse and fine. The coarse side is perfect for any cheese, whether it be cheddar or parmesan, and its even 'grate' for doing shreaded hashbrowns for breakfast. The fine side is perfect for getting the zest off your limes or lemons. It's also great for nutmeg, or if you're cooking on the island, you'll want it for grating ginger or wasabi root for those Asian inspired island dishes like Poke Tuna.
Most importantly, the Cuisipro V-Grater Dual is ultra portable and fits perfectly in your knife roll.
Bring a Peeler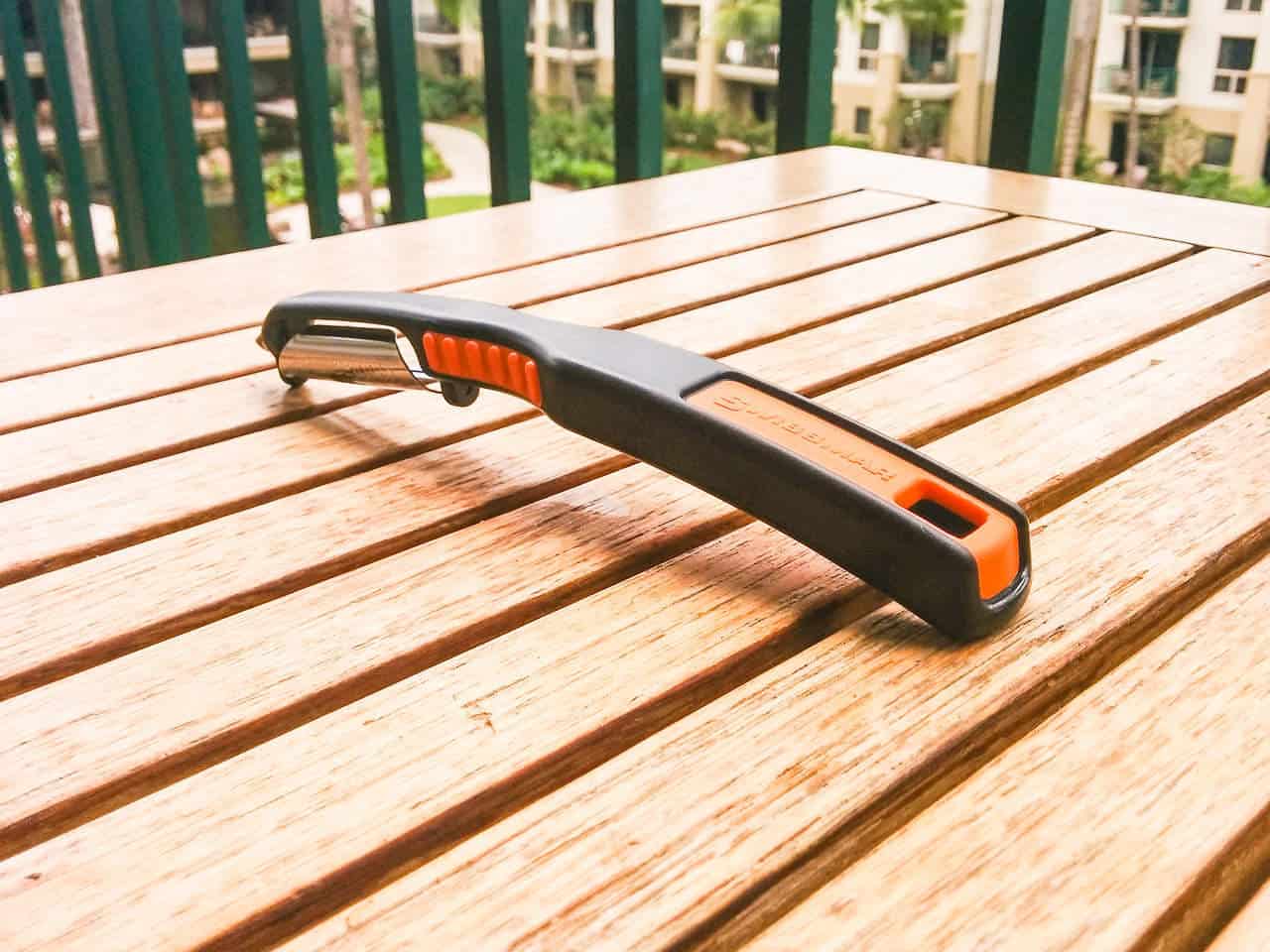 One thing that I've often found missing in a vacation kitchen is a peeler. And packing one in your knife roll is no big deal for weight or space. I'll always bring my Swissmar Swisscurve Peeler because it is not only sharp, but its extremely accurate so you don't make a mess and have to waste valuable vacation time cleaning up.
The Swissmarr Swisscurve Peeler comes in three colours: brown, yellow, and green. The best part about it is that it peels in both the pulling and pushing directions, making the peeling task that much faster. And who wants to waste any more vacation time peeling than they need to?
Bring a Set of Kitchen Tongs
Whenever I cook, I use a set of cooking tongs. They are truly the most brilliant things because they allow you to control and transfer food from a pan without scorching your hands and you can cook with them too. My favourite tongs for this purpose are the Cuisipro Tempo Locking Tongs which come in 9.5″ and 12″ sizes. My favourite for travel and general use is the 9.5″ version.
Unlike many tongs on the market, the grip is extremely sturdy and they do not flex. The gentle scallopping on the jaws gives it a confident grip on food without damaging anything, and they are dishwasher safe. But my favourite part of these tongs is the way they lock up. Just twist the top ring a quarter turn and they are locked. Twist them the opposite direction a quarter turn and they pop back open. If you've ever had one of those 'pull up' and 'push down' locks engage or disengage randomly on you, then you'll love this ingenious tweak.
Don't Forget the Thermometer
You'll never see a thermometer in a vacation kitchen. At least I never have. And if we're cooking on vacation using an oven or stove that you're not familiar with you can risk undercooking your food and making everyone sick, or overcooking it, and making it unenjoyable. That's why you have to bring a Kuchewerks Instant Read Thermometer along.
The Kuchewerks Instant Read Thermometer fits easily in one of the pen pockets in your Kussi Knife Roll and even has recommended temperatures for all meats. The instant read quickly measures the temperature so you can get your food off the heat at its peak of perfection. Why risk food poisoning on vacation? Most importantly, its small, light, and did I mention there's a spot that's perfect for it in your knife roll?
Don't Forget to Enjoy Your Vacation
Now that you have your perfect vacation kit sorted out you can enjoy your time off and save a bunch of money eating when you're not eating out. And that will pay for your next vacation or your next beer. Did we miss anything that is super useful that you absolutely must have with you while cooking on vacation? Leave a comment in the discussion area below.
---
---