Introducing the Rugged, Reliable, Ruger CRKT Knives

Many of us Northerners are familiar with Columbia River Knife and Tool Company (CRKT for short). Based just across the border in Tualatin, Oregon, we know them to be excellent knife makers, producing beautiful, functional, and innovative tools for all sorts of uses.
But many Canadians aren't as familiar with Ruger, even though they're an award-winning American firearm manufacturer. If you aren't familiar with Sturm, Ruger, & Co., know that they've been committed for over 60 years to producing rugged, reliable products, and promoting armed responsibility within EDC communities.
Firearms are different from knives, it's true. So what does Ruger have to do with CRKT? Both companies have teamed up to create a line of Ruger CRKT knives that combine Ruger's design with CRKT's masterful knife-smithing abilities. You'll find knives for everyday carry, hunting, tactical use, and self-preparedness in this line, inspired by the iconic aesthetic of Ruger's firearms. And now you can find them at House of Knives in Canada.
Here's a quick look at what you'll be able to find in store and online.
The Follow-Through Compact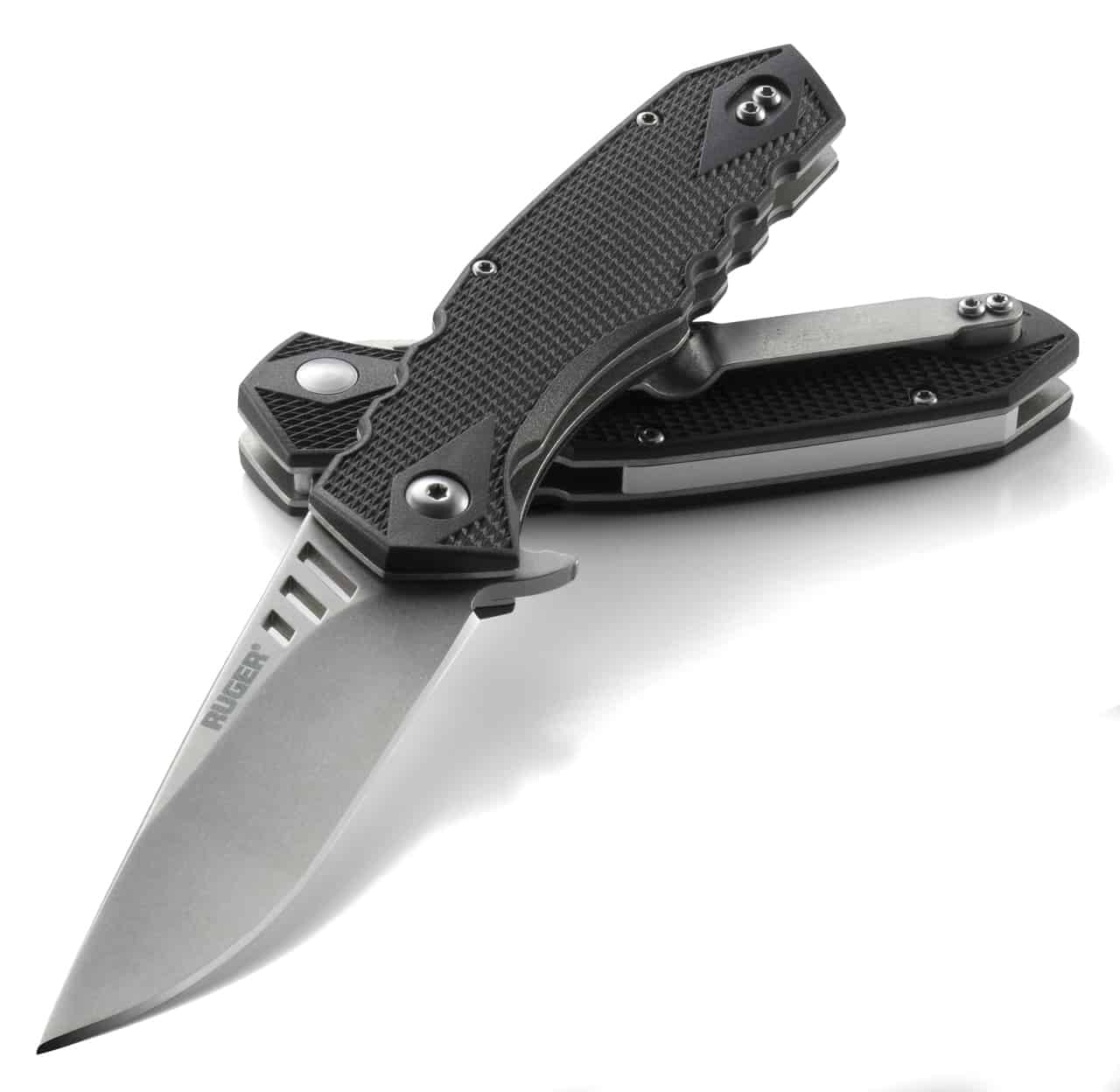 Let's start with the Follow-Through Compact which is a design-tribute to the Ruger American Pistol. It's also a knife we recently gave away in our latest draw where one lucky person got one to play with at home.
This everyday folder is the perfect addition to anyone's collection. As soon as I picked this lightweight knife up, felt the glass-reinforced nylon handles and sturdy fixed grips, I fell in love with it. It takes almost no effort at all to flip the blade open, and it smoothly locks into place without any give. The VEFF serrations caught my eye with their single-bevel style and flat points, which makes them part of the cutting edge and able to be sharpened. Rope and fibrous materials are no match for the serrated versions of the Follow-Through.

The Ruger Follow-Through Compact comes in three different styles: a full sized Drop-Point Tanto with Serrations, a compact version with Plain Edge, and a compact with VEFF Serrations.
The Powder-Keg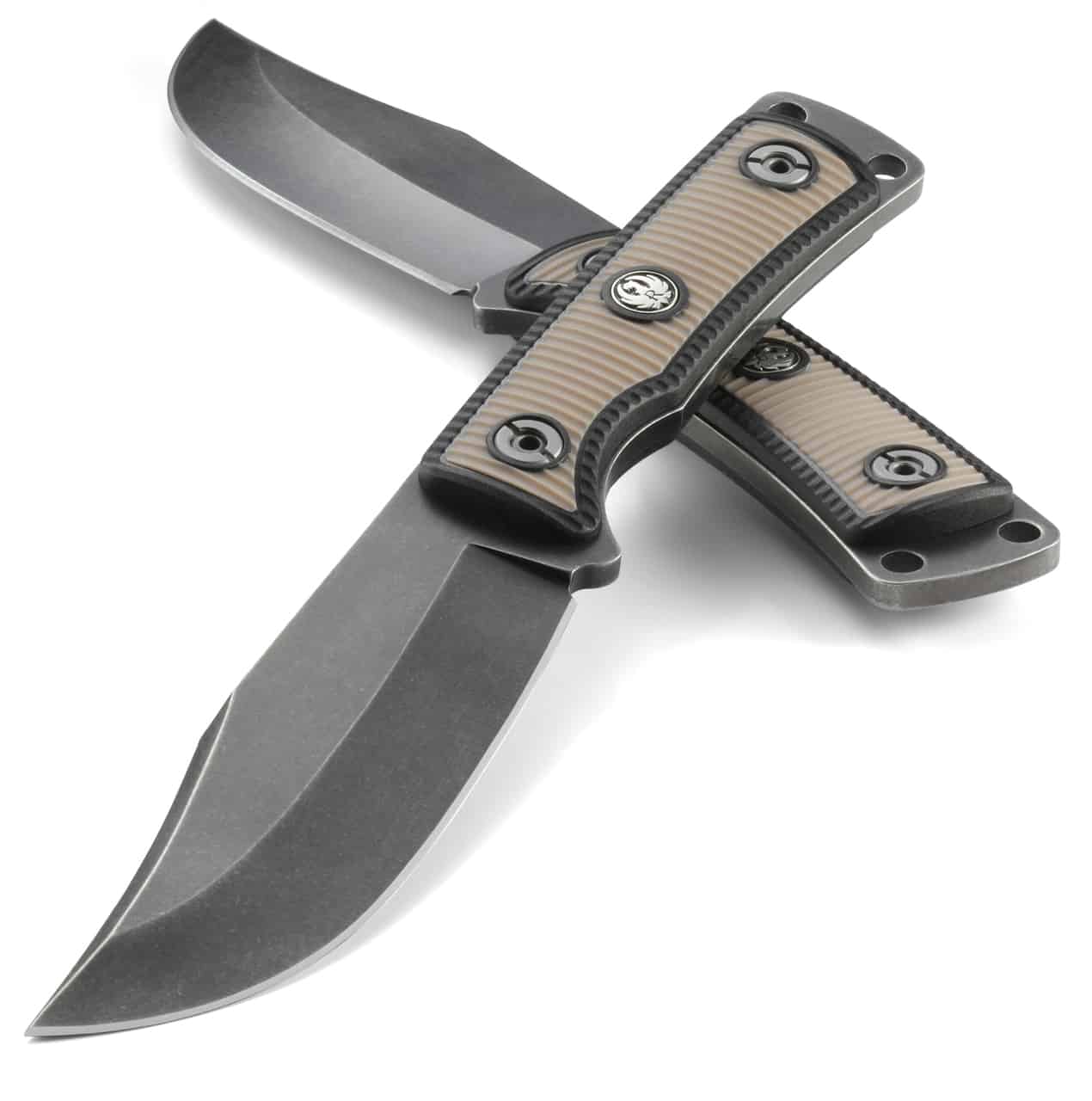 Next, we have the Powder-Keg. This beast of a knife looks and feels like it's ready for anything, and you better believe you'll feel like it too. The fixed, full-tang blade is wide, able to take on any number of tasks in the field. Rubber over-mold scales inset with the Ruger medallion will ensure a secure grip, and the strength and weight behind this knife will leave you with the supreme feel of durability and preparedness. As soon as you pick one up, you'll understand why the Powder-Keg earns the term "survival knife."
The Cordite Compact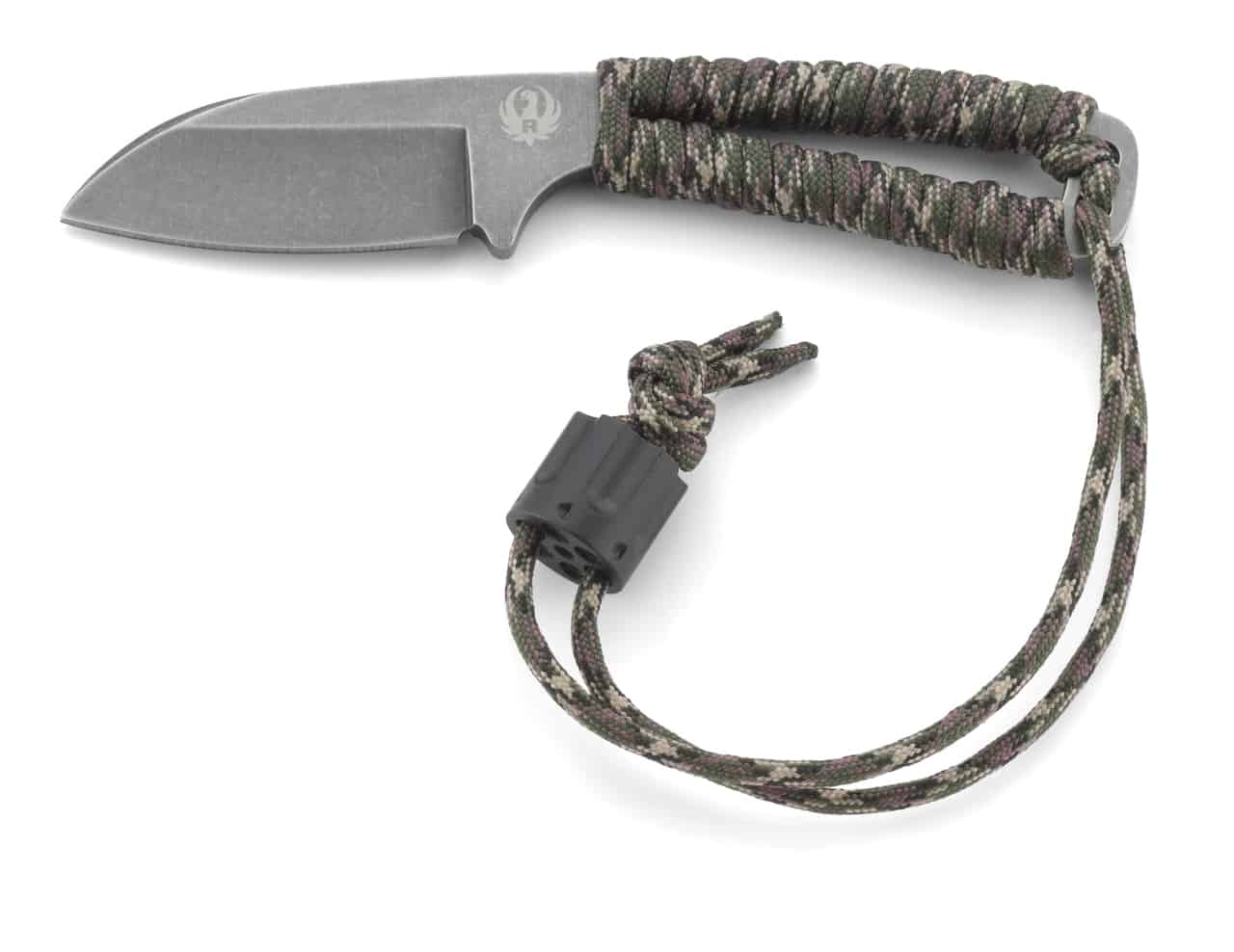 Moving on to the Cordite Compact, I have to say, it's my personal favourite. Underwhelming after seeing the Powder-Keg? Think again. This little beauty will have you prepared out in the wilderness with added versatility. Its full tang handle is wrapped in camo paracord, tied off with a unique bead in the shape of a revolver cylinder. It comes with a glass-reinforced nylon sheath and an adjustable lanyard for around-the-neck carry and lightning-quick unsheathing. But if you're not a fan of wearing it around your neck, it also comes with an attachable belt clip that fastens to either side of the sheath, for left or right-side carry.
The Accurate

Lastly, we'll stare longingly at the Accurate. Right away, we recognized the Accurate as a timeless design. Picking it up, you'll notice the balanced weight and generous heft behind this knife. The ergonomic handle is a rubber over-mold design in a classic checkered pattern reminiscent of Ruger's firearms. This full-tang blade will be your favourite companion out in the field, and rests at your side in its reinforced nylon sheath between tasks. If you're looking for a knife you can trust without hesitation, the Accurate is for you.
Ruger CRKT Knives are available at House of Knives
Ruger and CRKT sat down and designed these knives with durability, functionality, and an affordable price point in mind. They not only feel great in your hand and look attractive and modern, but they have the power to get the job done. That's why we're ecstatic to be able to present them to Canadians both online and in over 17 stores in BC and Alberta.
What do you think of the new Ruger CRKT knives? Have you already checked them out in store? Leave a comment in the discussion area below.
---
---