We're Over the Moon About KAI Luna
At House of Knives, we firmly believe that having the right tools can make any job easier and enjoyable. That's especially true when it comes to knives. But while most high-quality kitchen knives have a substantial price tag attached, you don't have to go beyond your means to get a good set of knives. KAI Housewares has introduced a new line of Japanese-style knives that perform similar to big names, but cost a fraction of the price. Take a look at the new Kai Luna series.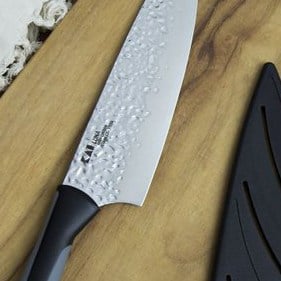 Kai Luna has so much to offer the everyday cook, but lets talk about what stands out first: the beauty of these knives. Luna features gorgeous hammered blades with a mirror-polished finish. And the best part is that their beauty isn't just for show; these traits actually serve a functional purpose. Borrowing from KAI's premium Shun Premier knives, the hammered tsuchime-style finish on each Luna helps to quickly release food from the blade and reduce drag while slicing. And that bright mirror polishing is an extra layer of protection that guards against corrosion and stains.
The quality of Luna's high-carbon stainless steel may surprise you as well—it is easily equal to that of knives priced much higher. Luna's steel has been hardened to retain its razor-sharp 16° edge, so you can slice and dice like you would with more expensive Japanese designed knives. While Luna's steel doesn't quite equal that of higher end products, it is definitely more forgiving of mistakes.
The Collection
Kai Luna comes in six different shapes and a one 3-piece set, so you can easily deck out your knife block with styles that suit you best. Each knife comes with sheath for safe storage in kitchen drawers or while travelling.
The Kai Luna collection is available exclusively online-only at the House of Knives website.
This slideshow requires JavaScript.
Do you own a KAI Luna yet? What do you think of these knives? Let us know in the comments below!
---
---