We're Celebrating Knife Sharpening Tools at House of Knives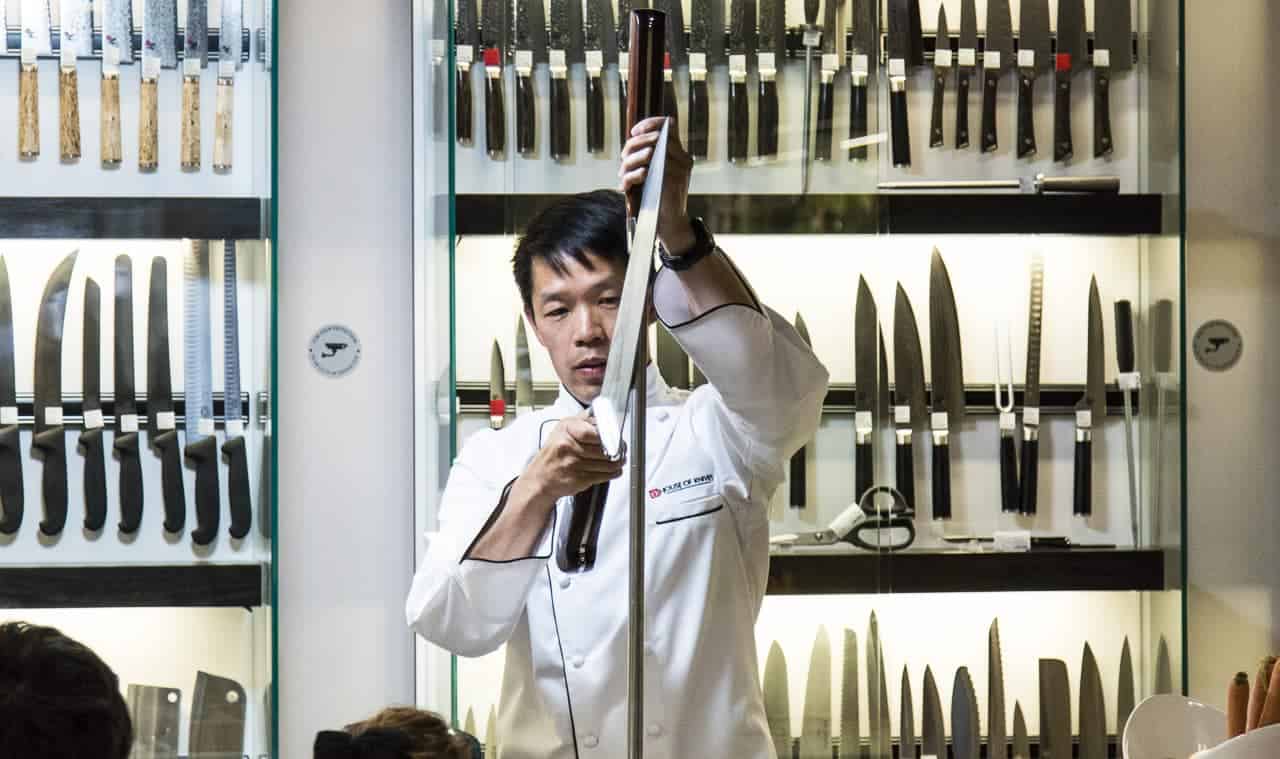 This month we're celebrating the most important tools in the kitchen—your knives! Behind these exceptional tools are a supporting cast that help maintain your knives' star performance. We've already covered cutting boards, which help keep your edge in great shape. But when your knives finally dull, they'll need honing, and eventually sharpening. That's why knife sharpening tools are some of the most important tools to have in your kitchen.
Honing Keeps Your Knife Sharp Every Day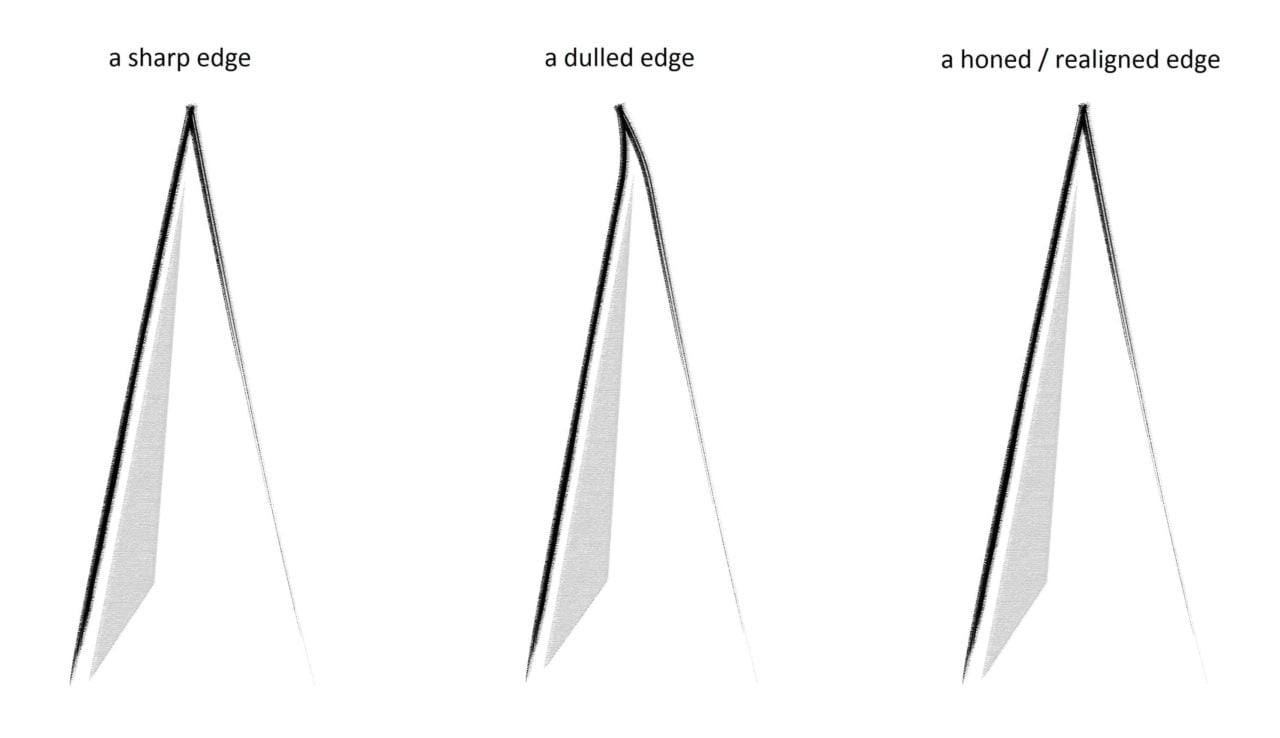 A sharp knife is a safe knife, and regular honing maintains that sharpness for longer. While honing doesn't actually sharpen a blade, a honing steel realigns its edge, which maintains both the performance and the longevity of your knife. In short, it keeps sharp knives sharp, but won't sharpen a dull blade. If you've never honed a knife, check out this useful video where we show you how in two different methods.
Remember, sharpening removes material from your blade in order to create a new edge. So the more knife sharpening you do, the less edge you'll have left. That's why honing is such an important part of keeping your most important kitchen tools happy. The more you hone, the less you'll need to sharpen.
There are a number of different honing steels out there, which we go through in this video. But in general, you'll want to select a honing steel that is longer and harder than the knife you're trying to maintain. That's why we're huge fans of the EdgeLogix Impact Resistant Ceramic Steel. Its 11 inch length and super-hard ceramic makes it suitable for even the hardest Japanese steels. It might be the only honing steel you'll ever need.
When You Need a Sharp Edge Now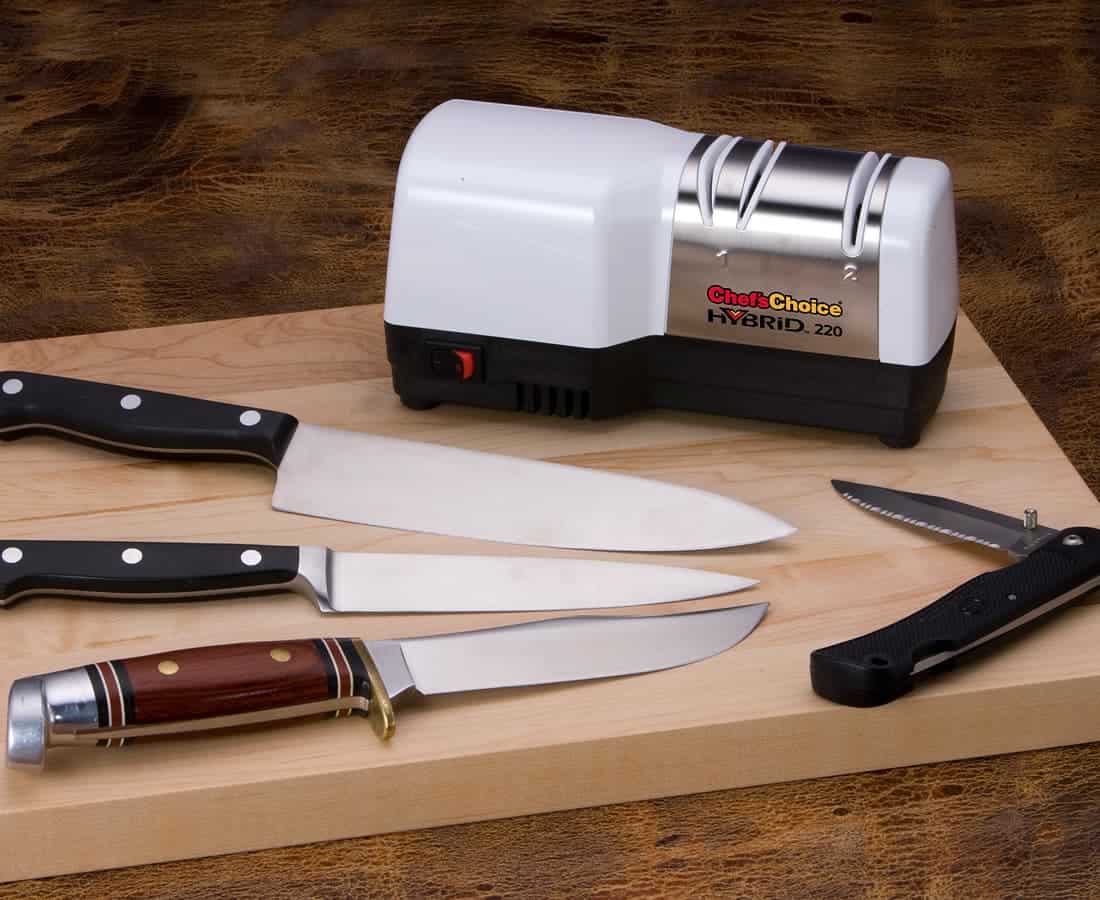 Electric sharpeners have come a long way, and Chef's Choice makes some of the best consumer units on the market. Not only because they're extremely easy to use, but because they're low maintenance, and use high-performance diamond abrasives to create a sharp and precise edge. Most importantly, if you're in an environment where your knives dull quickly, this is the quickest way to restore an edge.
The EdgeCraft Chef'sChoice Hybrid 220 is a compact and affordable sharpening unit that works with knives that have a 20 degree edge angle. This includes most sport knives, like your Kershaws, Benchmades and CRKTs, and many other hunting knives. Some American-style chef knives and meat cleavers also use this angle, but check with the manufacturer before sharpening. Many knives, including those from German and Japanese manufacturers are set at a 15 – 16 degree edge angle, which is not compatible with this sharpener (although, this sharpener is).
Stage 1 of the Hybrid 220 uses the company's "criss cross" technology to create a burr-free edge that has plenty of bite. Just carefully pull the blade through each Stage 1 slot and alternate to get a new edge in no time. Stage 2 is where the hybrid part comes in. It's not powered at all, allowing you to touch up and hone your blade without turning on the device, while removing as little material as possible.
House of Knives has a range of electric sharpeners to suit every knife sharpening need and budget. Come in and give them a try.
When You Need a Razor Sharp Edge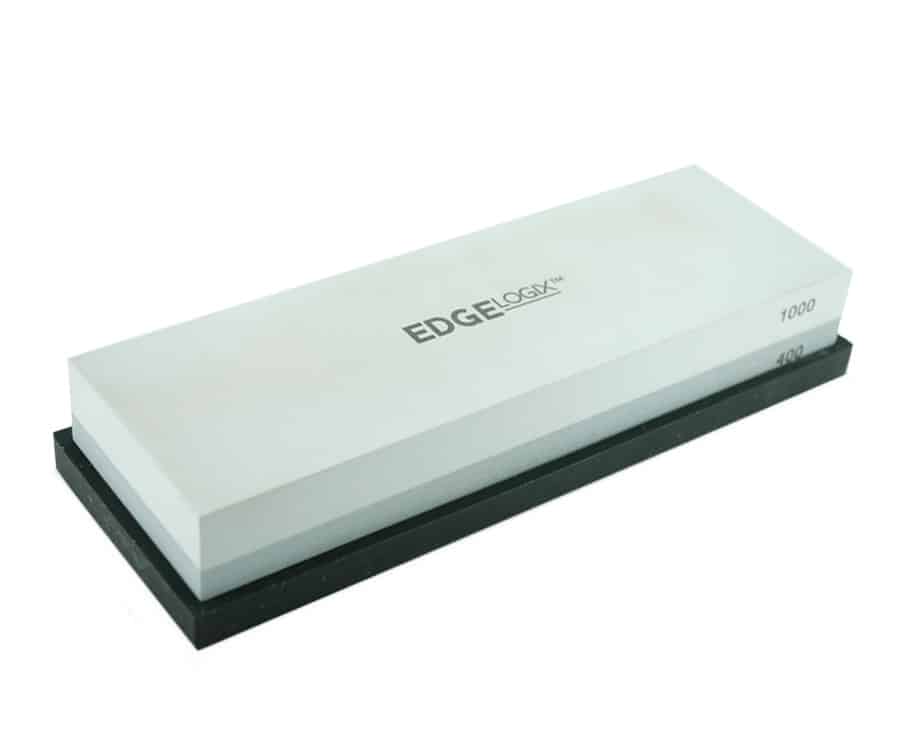 If you're looking for the ultimate edge, or a new hobby, then give whetstone sharpening a go. The process requires both patience and skill. But if you're willing to learn, you'll end up with knives sharper than you ever thought possible. Nearly any knife can be made razor sharp with a whetstone and proper technique. We go over this process extensively in this instructional video.
A good starter whetstone is the EdgeLogix 7 inch 400/1000 stone with a silicone base. The 7 inch size accommodates everything from sport knives to large chef knives. The 400 grit side quickly removes material and creates a new edge, while the 1000 grit side refines the edge to razor sharpness. The silicone base helps keep the stone from moving during sharpening. If you want to go another step up to hair-splittingly sharp, use the EdgeLogix 7 inch 4000/10000 ceramic whetstone after that, to take your edge to a mirror-shine.
In order to keep your stones flat for proper use, ensure that you pick up an EdgeLogix Truing Stone. The truing stone removes excess material from the surface of your stones and levels them out, so you'll get consistent performance and better edges.
We're Your House of Knife Sharpening
Knives are a lifelong investment and we celebrate our kitchen knives by taking good care of them. What we've gone over above are just some of the ways you can take care of your knives, and House of Knives has a huge range of products that are suitable for all your sharpening needs. From portable sharpeners when you're out in the great outdoors, to commercial solutions for your restaurant or cafe. We even have sharpening kits that are made to provide keen edges with ease.
But if you don't have the time for sharpening yourself, we also offer knife sharpening services at our stores. Just drop off your knives to any one of our 17 stores and we'll take care of the hard work.
What's your favourite way to sharpen your knife? Have you ever tried stone sharpening? Need help with choosing the right product? Let us know in the comments below.
---
---