Teaching Kids How to Use Kitchen Knives
By teaching children how to cook today, we'll help them eat healthier, live healthier, and to be more self sufficient for life. The challenge though, is to make learning these skills fun. Part of being able to cook is the ability to use a knife safely and efficiently.  I know many parents, including myself, are apprehensive about putting a knife in the hand of a child. But with some basic techniques for safety, a child can learn how to be proficient and safe, while learning a life skill. Most importantly, it can be fun and very rewarding for them to be able to help in the kitchen, or even cook for the family.
On Global BC TV, House of Knives President, Andre Eng, and his young friend Brennen, showed viewers how to use kitchen knives. Not just the plastic and play ones, but the real ones that mom, dad, and professional chefs use every day.  Check out the segment below.
We know that children are amazing at picking up new skills. And cooking is no exception. We see this demonstrated on every season of Masterchef Junior, Man vs Child and Chopped Junior. And hopefully, Andre's tips, and Brennen's ability to pick up those skills quickly, will hopefully encourage your family to get the young ones involved earlier. Here are some ideas for tools you'll want to have on hand to ensure success.
Little Hands Need Extra Protection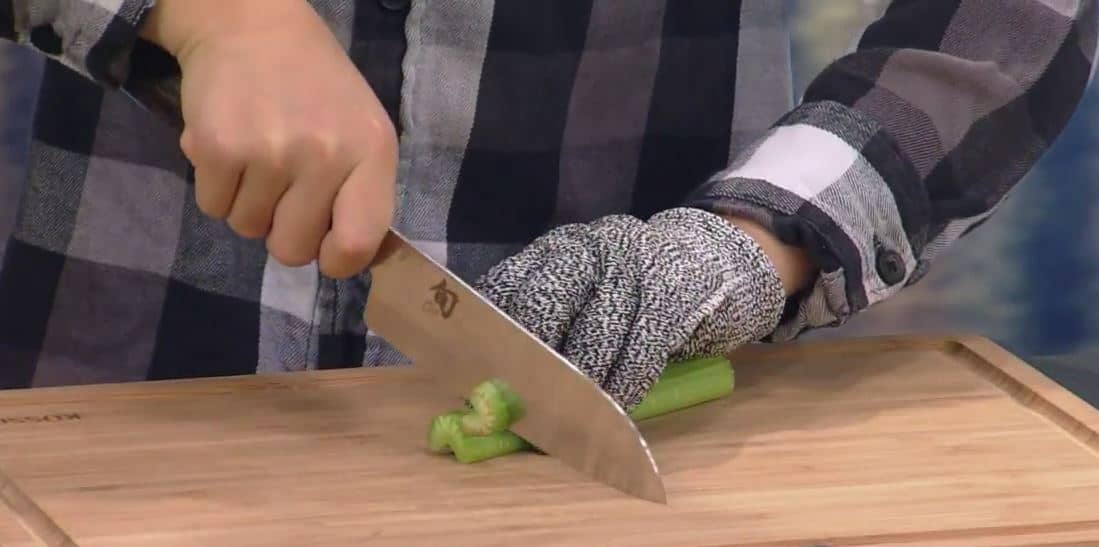 One of the easiest ways to take the fear out of learning how to use kitchen knives is by using a cut resistant glove. This goes for both adults and for kids as well. By using a cut resistant glove, your chances of accidents decrease significantly. And if you continue to work on those basic skills, and practice your claw grip, accidents should become a rarity in the kitchen.
Smaller Hands Need Smaller Knives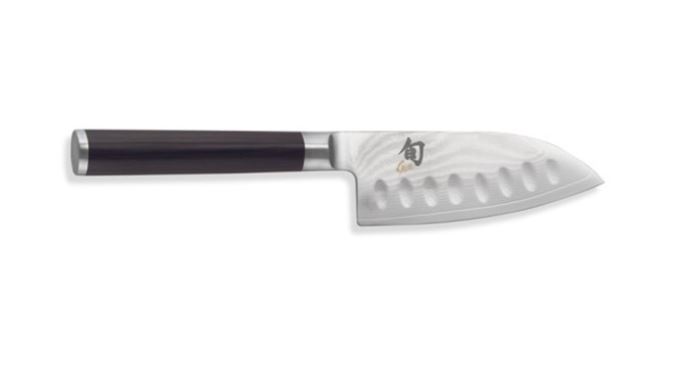 While the 8 inch chef knife is the standard bearer in any professional or home kitchen, smaller hands, even small adult hands, may find more control with smaller knives. While shorter knives are less common, ones like the Shun Classic 4 inch santoku do exist and they are just as capable as its lengthier brethren. In fact, it uses the same Japanese Steel, the same razor sharp edge, the same Pakka Wood handle, but in a more comfortable size.
The santoku shape is also less pointy at the end for a bit more added safety, yet still offers a rocking edge for efficiency when mincing and dicing. You also get a hollow ground edge so that food doesn't stick to the edge. This means little fingers will have less contact with the sharp blade, trying to peel food away from it.
Other short santoku style knives include:
A good knife, in the correct size, is a bit of an investment. Unfortunately, it's not like buying shoes or clothes one size bigger. But the pay off is safety, control and increased confidence for young users.  In some kitchens, however, the shorter knives end up being used as much as the longer 8 inch chef knives. Just make sure you ask the kids if its OK first.
Invest in a Good Cutting Surface

A good cutting surface will let a good knife do most of the work. The smooth glide of the blade along a knife friendly edge will make each slice snag free. Plus, your blade will stay sharper over time. Good surfaces can be made of bamboo, teak, and composite materials. There are also more portable cutting surfaces like the Kussi Chop & Grips (pictured above) that can be placed on any surface, to turn it into a knife friendly one.  They are also colour coded so as you start teaching your kids to move from vegetables to proteins, you'll avoid cross contamination. They are also handy for transferring ingredients to other containers.
Have you successfully taught your children how to use knives proficiently and safely? What are some tips you have for developing the next Masterchef Junior? Let us know in the comments below!
---
---