Making Cauliflower Steaks With Fusion Touch Knives
Knives are more than just steel and handles. They are about the food you create, and the experience of using them. Everyone's preferences, hands, and tastes are different. That's why we sell a range of knives that cater to this wide range of needs, so you can maximise that feeling of happiness in the kitchen, at any budget.
We've just recently introduced a new brand of knives called Fusion. And the first series from the brand is called the Touch series. The Fusion Touch knives have a German steel (X50CrMoV15) blade, resulting in great edge retention and ease of resharpening, And the 'touch' part of the name is from the Santoprene handle, which is a rubber like material that allows the knife to feel like it moulds right to your hand. Now that we've got a great blade and a comfortable handle, we have to see what kind of experience it creates by cooking with it of course.
So, from the Fusion Touch knives available, we selected the Fusion Touch 10 Inch Chef Knife. Check out the video above showing the longest knife in the line creating cauliflower steaks with ease. And if you're looking for the recipe, read on after you've checked out the video.
Ingredients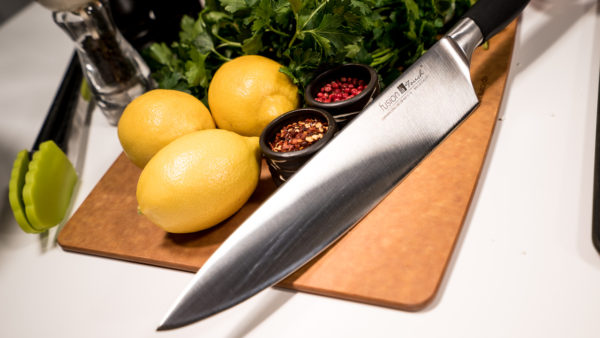 Here's what we used to create the cauliflower steaks in the video.
1 large cauliflower
1 lemon
1 bunch Italian parsley
1 clove garlic
Red pepper flakes (to taste)
Salt and pepper (to taste)
Olive oil
We wanted to keep this recipe extremely accessible and simple, so we chose very common ingredients that you can find in any grocery store. But you're welcome to add your own spin to it and make it your own.
Preparation
Step One – Put on your Kussi Cut Resistant Glove (safety first). Then,take the large cauliflower and carefully remove all the leaves. You can use a paring knife here, but we found that the handle actually provided enough grip and control needed for this task.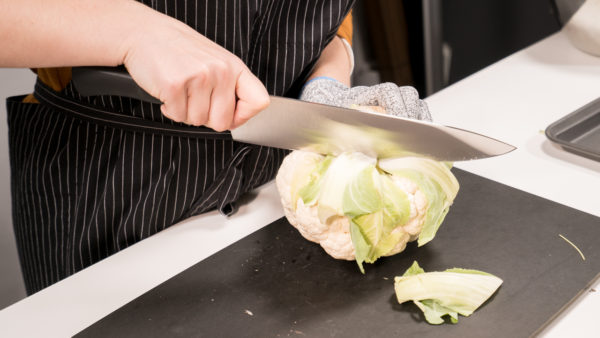 Step Two – Cut the cauliflower in half, and cut a large 'steak' out from each half. They should be at least an inch to an inch and a half wide. As you saw in the video, it was very easy to get those clean cuts, and limit the amount of crumbling with a larger 10 inch chef knife. Save the remaining pieces. Place the cauliflower steaks on a baking pan.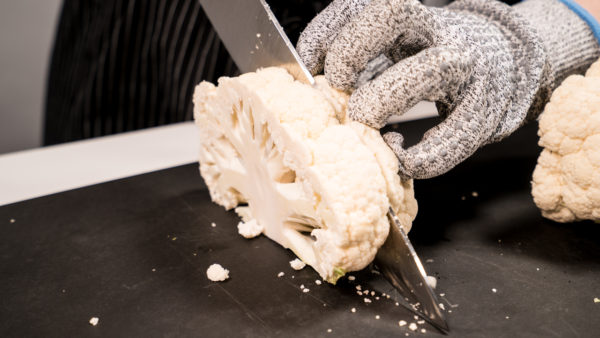 Step Three – Take a bunch of Italian parsley and mince about a quarter cup and set aside. For a stronger flavour, you can roll up the stems with the leaves like we did, or you can just pull the leaves off.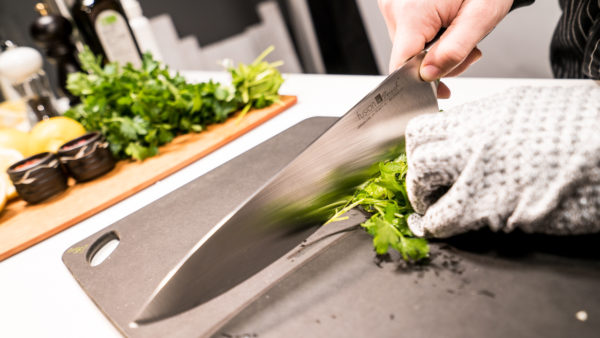 Step Four – Take your garlic clove, give it a good whack with your knife to release the skin, and give it a good mince. If you like more garlic taste in your food, feel free to mince two cloves. Set aside.
Step Five – Take a lemon and cut it in half. Set aside.
Step Six – Drizzle olive oil over your cauliflower steaks. Flip over and repeat on other side for both steaks.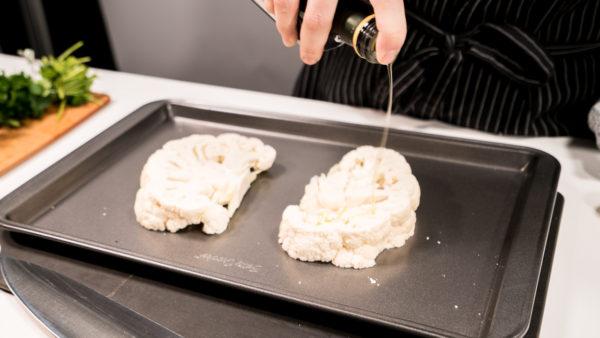 Step Seven – Season the cauliflower steaks with salt and pepper to taste. Then turn over and do the same for the other side.
Step Eight – Take one of your lemon halves and squeeze it over the cauliflower steaks. For a pro-tip, you can put the lemon inside a pair of tongs and use it to help get a better squeeze.
Step Nine – Take the minced garlic and sprinkle it evenly over the cauliflower steaks to taste.
Step Ten – Preheat your oven to 400F. Then, put cauliflower steaks in for about 20min. If the top isn't browning, you might want to flip them over and cook for an additional 5 min.
Step Eleven – Once they are out of the oven, you can garnish with the Italian parsley and the red pepper flakes (to taste). If you have it available, some shaved parmesan cheese and a drizzle of truffle oil really puts these cauliflower steaks over the top.
Bon Appetit!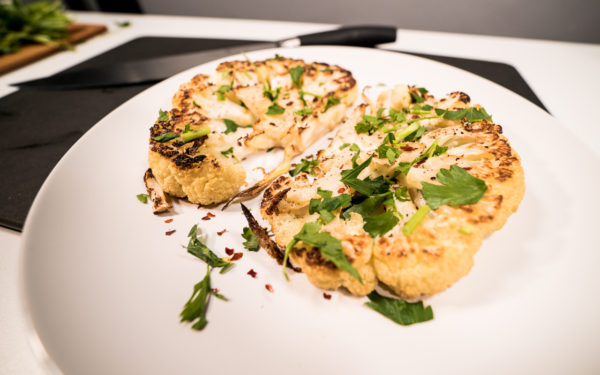 This was an unexpectedly tasty recipe and a great way to test out the new Fusion Touch 10 inch Chef Knife. The handle really did provide confidence when pushing down to get those large cauliflower steaks cut, and the sharpness of the blade limited the amount of crumbling. But it was still nimble enough for mincing garlic, parsley, and getting those leaves off the cauliflower. We also found the handle extremely comfortable. Make sure you stop by one of our stores to give it a try. Or order one online with FREE shipping in Canada on orders over $100.
If you do try the recipe, let us know what you think. And if you put your own spin on it, let us know in the comments below, what you spun the recipe into, so we can give it a try too.
---
---