Stanley Coffee Mugs – Rugged Mugs for Active Lifestyles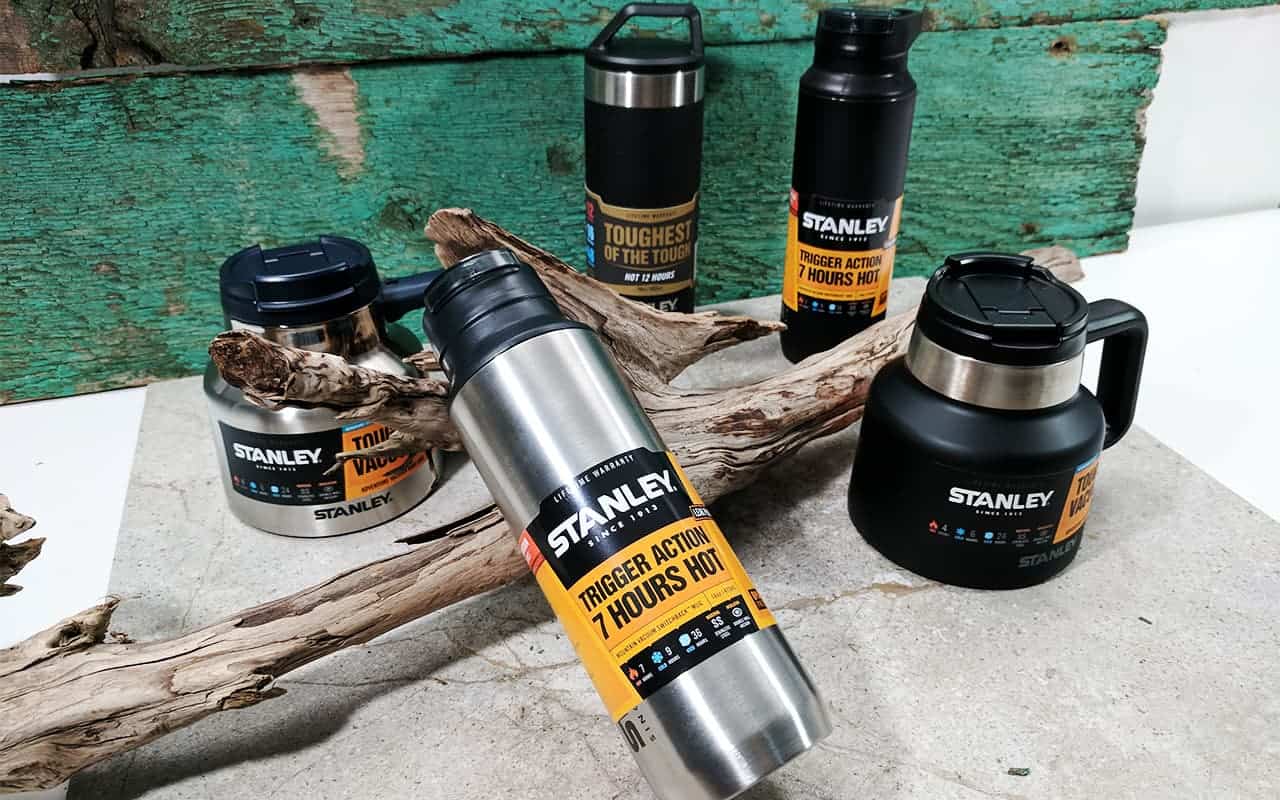 Waking up and starting your morning can be rough. That's why you need a coffee mug that you don't need to worry about, and can keep up with you throughout the day. For over 100 years, the Stanley Brand has been creating innovative drink containers for all sorts of active users. From road trips to outdoor adventures, Stanley's fused vacuum insulation technology has stood the test of time with ruggedness, great value, and a lifetime manufacturer warranty. Even today, it's not uncommon to see Stanley coffee mugs passed on from generation to generation. Their timeless and consistently iconic designs look modern in any era. That's why we're so excited to be carrying Stanley coffee mugs at House of Knives.
We've carefully chosen three products from their line that reflect the needs of an active lifestyle. Both in the suburban jungle and more remote ones.
Stanley Adventure Wide Mug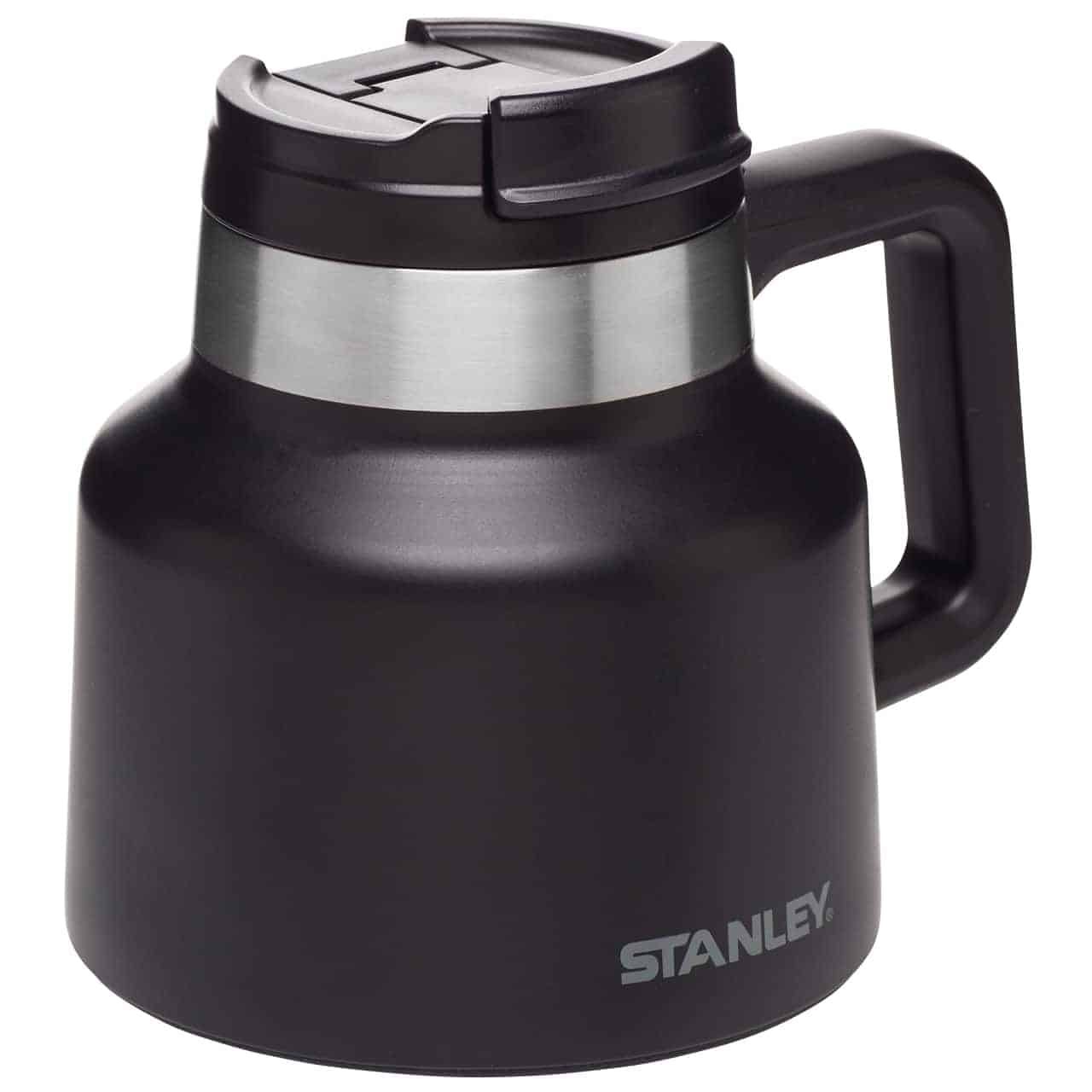 If you've ever left a coffee mug on the top of your car, knocked one over while trying to get out of the house on schedule, or had it rolling around in the passenger seat when you take a sharp turn, then you're going to appreciate the Stanley Adventure Wide Mug. The wide bottom keeps the mug from tipping over easily, keeping 20oz of your favourite morning beverage safe and sound. The rubberised bottom also stops it from sliding around on your dashboard, boat, or along the roof of your car. Whichever the case may be.
In case your mug does hit the deck, the rugged 18/8 stainless steel construction and leak-resistant flip lid, should keep your contents inside the naturally BPA-free interior. It's also dishwasher safe, making it easy to expel old drinks that may have stayed past their welcome.
The Stanley Adventure Wide Mug's vacuum walled construction will keep cold drinks cold for 6 hours, iced ones iced for 24 hours, and hot drinks hot for 4hrs. It comes in black as shown or in stainless steel.
Stanley Mountain Switchback Mug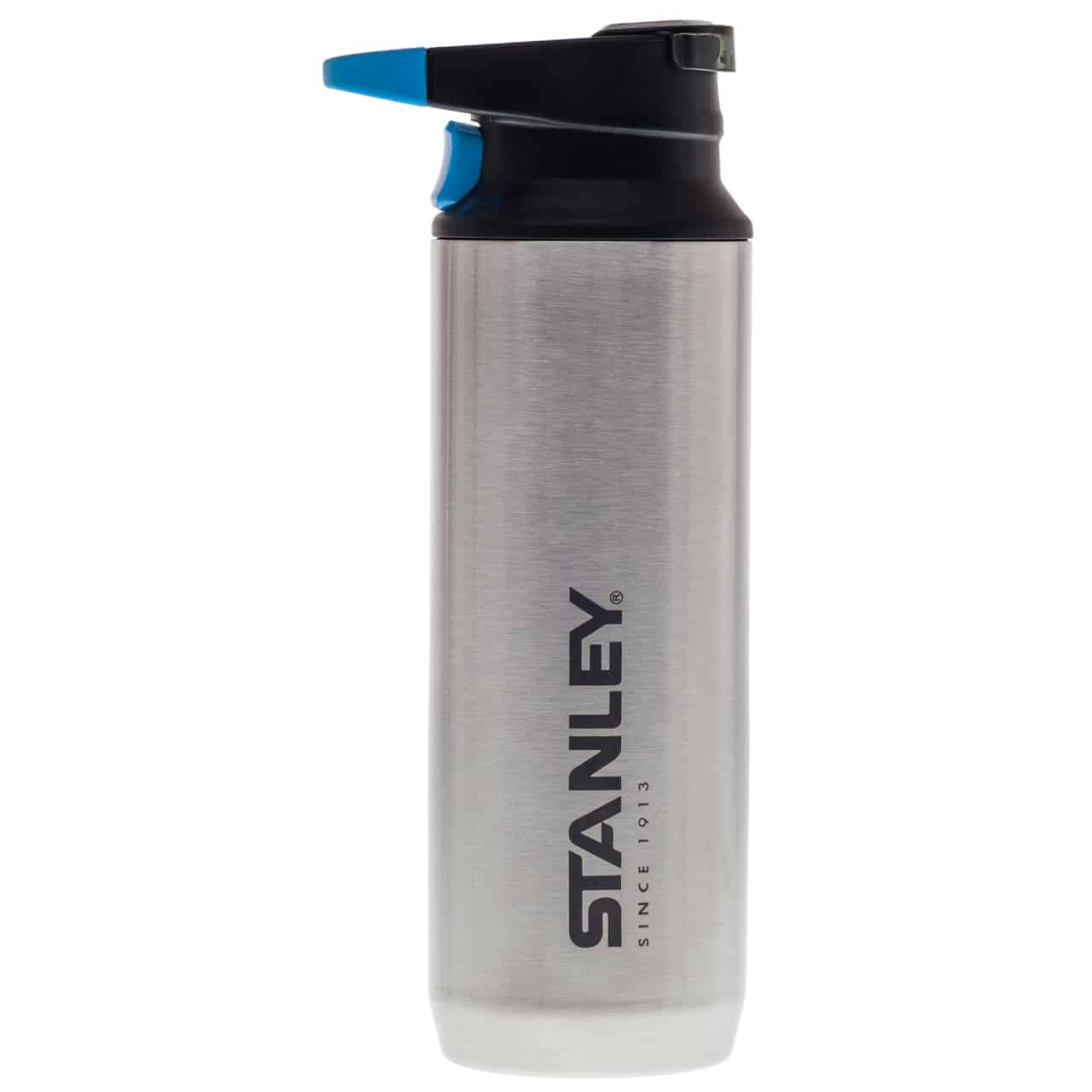 The Stanley Mountain Switchback Mug is just as comfortable being a coffee mug as it is a water bottle. This 16oz container is leak-proof and features a trigger action for easy opening. The trigger opening also prevents it from being left open or spilled in case it takes a tumble. There's even a clear plastic grit-guard that prevents the opening from getting contaminated with sand, dirt, or goldfish crackers. The rugged stainless steel design is at home in a cup-holder or clipped to a backpack with the overmolded finger-loop. It's also dishwasher-safe for super easy cleaning.
The Mountain Switchback Mug's vacuum walled construction will keep your hot drinks hot for 7 hrs, your cold drinks cold for 9 hrs, and your iced drinks iced for up to 36 hrs. It comes in the timeless stainless steel look, but you can also get it in a matte black colour as well.
Stanley Master Vacuum Mug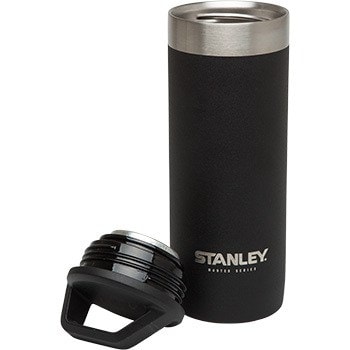 As a 2017 Red Dot Award winner for product design, the Stanley Master Vacuum Mug doesn't disappoint. For starters, it uses a QuadVac insulation system that will keep your hot drinks hot for 12 hours, your iced drinks frosty for 48 hrs. Your cold drinks will be happy too. Plus, the 1mm 18/8 stainless steel container gives the Master Vacuum Mug some heft that is not felt in other mugs. It's also coated in a textured black coating that makes it less slippery when wet.
The Stanley Master Vacuum mug uses a twist-off top, meant for moments when you need to master the day. Like when you're overlooking a mountain range, or sitting in the driveway for 10 precious minutes before going inside the house. It's also dishwasher-safe for deep cleaning when you finally locate it from under one of the seats. It's available in black.
Find Stanley Coffee Mugs at House of Knives
At House of Knives, we're always on the look out for products that are built to last. Stanley coffee mugs come from a company with a reputation for products that have stood the test of time for over 100+ years. They are an essential part of your workday, roadtrip, or outdoor adventures. Stanley coffee mugs are made to be a part of countless memories and they're backed with a lifetime manufacturer warranty.
Know someone who would love one of these? We'd love to have you check them out at one of our locations in BC and Alberta, or you can find them online.
Which Stanley coffee mug speaks to you the most? Let us know in the comments below!
---
---