The Magnificent Seven of Father's Day Gifts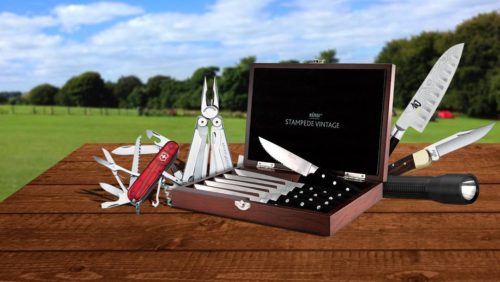 With Father's Day just around the corner (it's this Sunday folks!), you're running out of time to pick out that perfect gift for dear old dad. Luckily, House of Knives has locations across BC and Alberta to help you out with your last minute shopping needs. Here's SEVEN magnificent gift ideas that any dad would love to wake up to on June 21st!
For the "Meati-tarian" Dad
When it comes to steaks, Dad deserves the moistest, juiciest medium-rare slab of bovine. But if you subject that tenderloin to a crummy steak knife, you're just going to tear up the meat and cause all those delicious juices to leak out. That's why you should get Dad some brand new steak knives!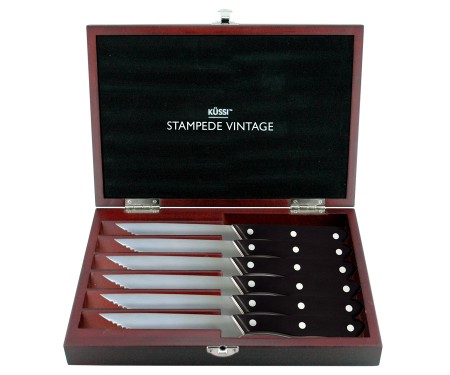 The Küssi Stampede Vintage six piece steak knife set is crafted with high quality stainless steel, and is built for the rigours of everyday life (from hot dishwashers to hard ceramic plates). The full-tang serrated blade ensures a sharp cut every time, and is riveted to a durable and comfortable plastic moulded handle.
House of Knives locations across BC and Alberta are well stocked and they are available for only $44.98 till June 25th.
Help Dad Avoid LEGO Land-Mines
You'll never forget the first time Dad stepped on a LEGO land-mine; from the blood curdling scream of pain, the thud as his body hit the ground, and the curse words that he told you to never say. This could have all been avoided if he had an LED flashlight ready to light his way to the fridge at night.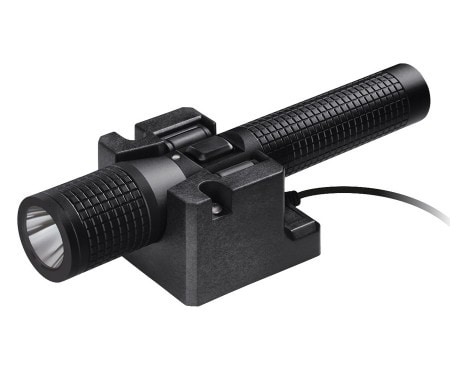 House of Knives carries a wide selection of LED flashlights. Save 10% off till June 25th on all shapes and sizes. From headlamps for reading bedtime stories under the stars, to ones that fit on Dad's keychain. The rechargeable units, like the Inova T4 Tactical shown above, are rechargeable and always at the ready. Perfect for grabbing and going—and avoiding those horrible LEGO accidents.
You can find an impressive selection at any of our locations.
You Don't Know Who MacGyver Is (But Your Dad Does!)
Angus MacGyver was your Dad's hero growing up. He was the only man that could take a Swiss Army Knife, a stick of chewing gum, and a twist tie, and overthrow a dictatorship while freeing women and children. It's time to give your Dad that Swiss Army Knife.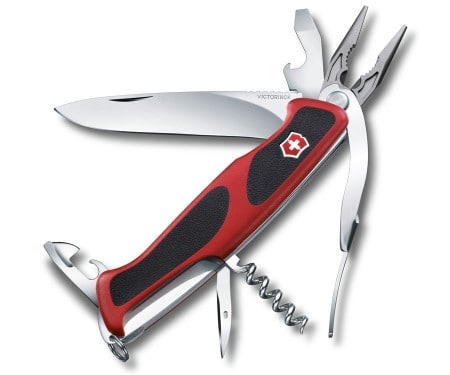 Till June 25th, save 10% off all Victorinox Swiss Army Knives. From the classic red to the updated EvoGrip 10 (pictured above), Dad can believe he's the hero the world deserves from the comfort of his own couch.
Selection and styles will vary so make sure you visit one of our stores to help him pick something out.
For the Dad With The Swiss Army Knife
Maybe Dad already got a Swiss Army Knife after watching MacGyver as a kid. It's time to get him something different—something made by red blooded Americans in the USA. How about a Leatherman Tool?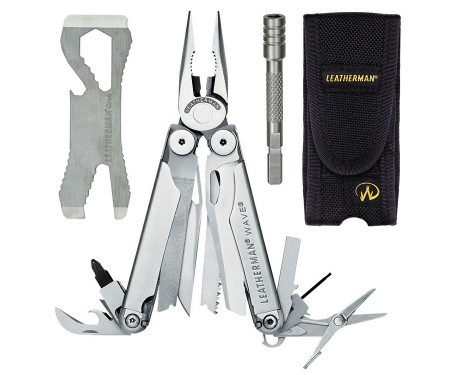 Built tough and ready to take on any task, the Leatherman Wave with Croc Tool & Bit Extender Gift Box (pictured above) is the perfect gift for the Dad that's looking for something substantial enough to bridge the gap between Swiss Army Knife and his tool-box.
Three tough tools come in this kit, including the world-famous Leatherman Wave, a bit extender, and  a croc which doubles as a pocket wrench and a mini pry bar. The best part? It's available at all our House of Knives locations for only $99.98 till June 25th.
Rescue Dad from Revenue-Sucking Razor Blades
Razor blades aren't cheap. Especially the ones that Dad buys for his razors with the four or five blades. Yet Grampa always had the smoothest shave. Why is that? Well, it's probably because he was using a good quality, double edge safety razor.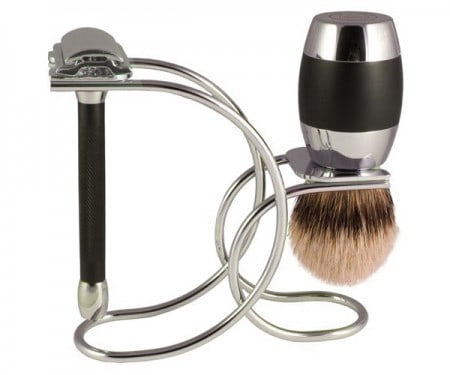 Help Dad get Grampa's smooth shave (and inherit some of his ability to stretch a dollar) by picking him up a double edge safety razor. The featured Merkur Safety Razor kit comes with a stand, brush, and razor for a perfect combo. The brush is made of silvertip badger hair for maximum moisture retention and a great lather, while the Merkur safety razor uses economical double edge razor blades.
The Merkur Safety Razor kit in a classy black and chrome finish is on sale for $229.98 till June 25th and is available at House of Knives locations across BC and Alberta. Don't forget the shaving cream!
Get Dad to Stop Complaining about Dull Kitchen Knives
If Dad loves to cook, then chances are he thinks every knife in the drawer is dull. And while House of Knives does sharpen knives, he says he's going to do it himself one of these days. That day still hasn't come. So why not surprise him with an easy fix!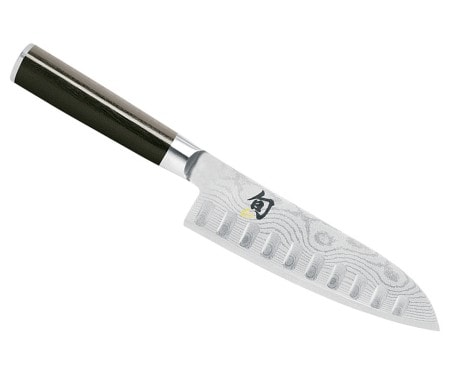 The Shun Classic Santoku 6.5″ is one of the most versatile knives in this award winning knife maker's line up. You can slice meats like butter, and transition to chopping vegetables with ease. The hard Japanese steel, aggressive blade profile, and unique styling helps it glide through food and look good doing it.
It's available at all our locations for only $124.77 till June 25th.
And If All Else Fails…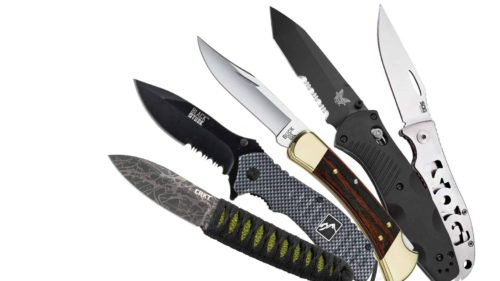 House of Knives is also having a very rare Sporting Knife Sale where you can save anywhere from 10–50% on all the biggest brands, including Benchmade, CRKT, SOG, and more. And if you're a Kershaw fan, our entire selection of in-stock items is on for at least 20% off till June 25th.
Make sure you come see us before Sunday for the best selection, prices, and service for all things sharp this Father's Day. Sale ends June 25th.
---
---